The GDPR went into effect Friday. As predicted, it's already leading to censorship
Friday, the General Data Protection Regulation ( GDPR ) went into effect in Europe.
Internet censorship is a real concern in a world where regimes in several countries block the internet.
We first mentioned the EU's General Data Protection Regulation (GDPR) in the context of how the law, along with the controversial Digital Economy Act, impacted access to adult sites in the United Kingdom. Among many other restrictions, and a host of "protections", the law requires 16 year-olds to get parental consent before accessing social media or other online services.
It has now been reported that several major U.S. newspapers have blocked readers from their own online sites in Europe, after the sweeping new data privacy laws embodies in the GDPR went into effect Friday.
Enforced by regulators across the 28 countries, the GDPR hits businesses with big fines for not following certain guidelines on handling user data: up to 4 percent of their global revenue or 20 million euros, whichever is greater.
The law has lots of problems, some of which are discussed here and here.  Back in 2015 EFF was already shouting "How the New EU Data Protection Regulation will be Misused to Censor Speech", and noting that the regulation "has omitted sufficient safeguards to protect [a] fundamental right: the right to freedom of expression, "to hold opinions and to receive and impart information… regardless of frontiers".
The result is a ticking time-bomb that will be bad for online speech, and bad for the future reputation of the GDPR and data protection in general.
The world over, few types of speech are assailed and censored more than sex-related content.
And now people in Europe are reporting they cannot even access websites for newspapers including The Los Angeles Times, New York Daily News and The Chicago Tribune. These and many more media outlets have now started greeting readers with a warning that their content is unavailable in European Union countries.
All thanks to the GDPR.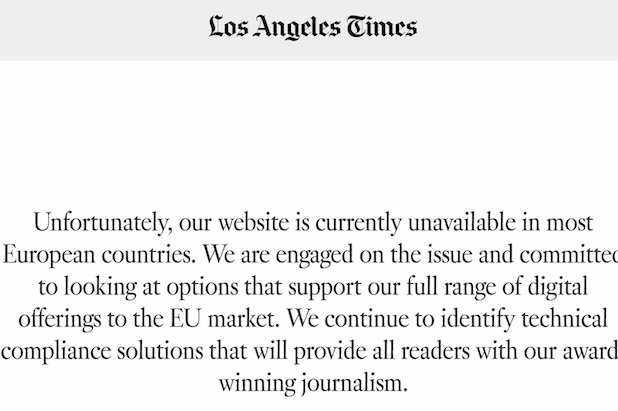 As The Wrap reports,
The GDPR aims to make companies more transparent with how data is collected, how its being used, and also forces companies to delete data once its no longer useful. The new regulation applies to every business in Europe, from newspapers to tech companies to banks.

Rather than deal with the potential repercussions, Tronc, the owner of the L.A. Times, and other major media outlets have decided to block its papers in the EU. Lee Enterprises, which owns nearly 50  newspapers in the U.S., has also followed suit.
Eh, why worry . . . these governments are justifying to protect us, right?
I never felt more satisfied or optimistic than when I rode the river in my youth.