Lana Rhoades speaks out about European Syphilis Outbreak
Lana Rhoades today posted her test results because as many know she was in Europe last month. Luckily she is clean. However, she almost wasn't so lucky because at least one of the people she was scheduled to shoot with tested positive for syphilis.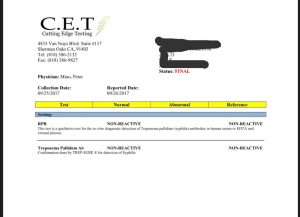 LANA RHOADES: The syphilis outbreak is scary as I was in Europe last month! I just got my tests results back and I'm negative.
I feel so blessed because the shoot that I walked out from while in Europe, 1 of the 4 guys is syphilis positive. If I hadn't left Budapest that day later in the week I would have worked with someone else who is now positive. Always follow your gut.
Thank you to whoever is watching over me & I hope everyone who wasn't as lucky heals quickly
If you were outside of the United States in the last 90 days and had sex with anyone go and get tested. It's always better to know for sure, don't you think?
Lana Rhoades did the right thing and got tested. Will you?