The cyborgs are coming, and they may have three boobs and a cat's tail
TechLand — Way back in 2003, Mike South ran a post about Girlfriend 4.0. Since that time, demand for advanced cyborgs has driven mass production as the sexbot craze continues to blaze across the globe.  European brothels are even offering sex dolls in addition to, or instead of, real live women.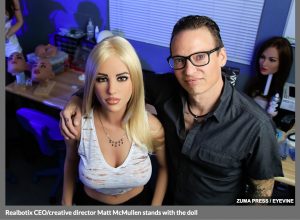 Harmony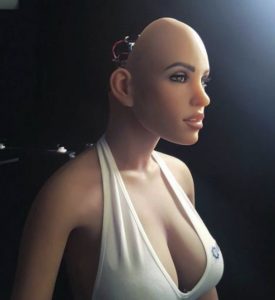 Harmony 2.0 can be programmed to take on 18 different personality traits including 'sexual', 'shy' or even 'frigid'. She has 42 different nipple options as well as an optional transgender penis extension. After sex, her detachable genitals can be popped in the dishwasher.
The Cyborg Man
Matt McMullen, CEO of RealDoll, is the mastermind behind the "mind blowing" sex robots that are so realistic they "force people to take a second glance".
Cam girl Harriet SugarCookie recently visited the RealDoll factory.
"[Buyers] love the dolls a lot and they want more than one. Each doll is considered its own person and some clients end up with a harem of them."
Cyborgs are being designed to fit a wide range of sex robot fetishes. "You can get almost anything you want, it's a fantasy.," said SugarCookie. "A doll with three boobs? No problem. Elf ears? Sure. A cat tail? Why not?"