CBS cut 'principled' Stormy Daniels' description of Donald Trump's genitalia from '60 Minutes' interview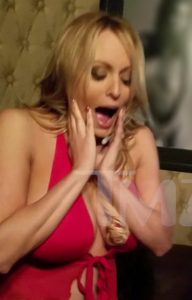 Stormy Daniels' publicist attorney was back on television again Wednesday, this time to announce the shocking news that television interviews are edited before airtime and do not include everything the subject said.  Michael Avenatti said there is more to the porn star's "60 Minutes" interview about an alleged sexual affair with Donald Trump more than a decade ago — including a description of the U.S. commander-in-chief and chief magistrate's genitalia.
"When she sat for that interview, it actually lasted over two hours in length, the actual interview," Michael Avenatti told NBC's "Megan Kelly Today" on Wednesday. "And then the portion that the American public saw was only 14 or 16 minutes of actual interview time on '60 Minutes.'"
Amazing! Especially considering all the penises under the bridge in the last 11 1/2 years
Avenatti explained, CBS is a "conservative network" and "they play it close to the vest."  Which is actually hilarious, considering the amount of promo the organization did on this interview.
As the New York Post reported Thursday, Avenatti continued:
"For instance, she can describe the president's genitalia in great detail. That did not make it," he said as the audience gasped.

"We don't need to hear that," Kelly said, covering her eyes. "My eyes! Don't need to hear that."

"That did not make it in," he said.

"And good for them," Kelly replied.
Interviewed on WABC Radio's "Curtis and Cosby" show, David Schwartz, who's representing Trump lawyer Michael Cohen, reminded listeners that Avenatti has zero proof that Daniels and the president had a sexual relationship.
"This a game. This guy is a master performer. He's playing games with everybody. It's unbelievable," Schwartz said. "Yeah, he shows you a picture of a CD in a safe. He says he's got – believe me whatever he has, came out on '60 Minutes.' And I think everyone, even the Trump haters, were completely underwhelmed."