USASexGuide is back after FOSTA-inspired shutdown
After more than a month offline, the popular sexual services website USASexGuide has returned. The site temporarily suspended operations last month after President Trump signed the FOSTA legislation into law,
The multi-city bulletin board offering, as XBIZ elegantly phrases it, "forum categories that mirror the full spectrum of places where men go to seek out pleasure," has switched its domain to USASexGuide.nl — the change represents a new Netherlands country-code.

The bulletin board-style site previously was online at USASexGuide.info before its operator bailed on the original domain.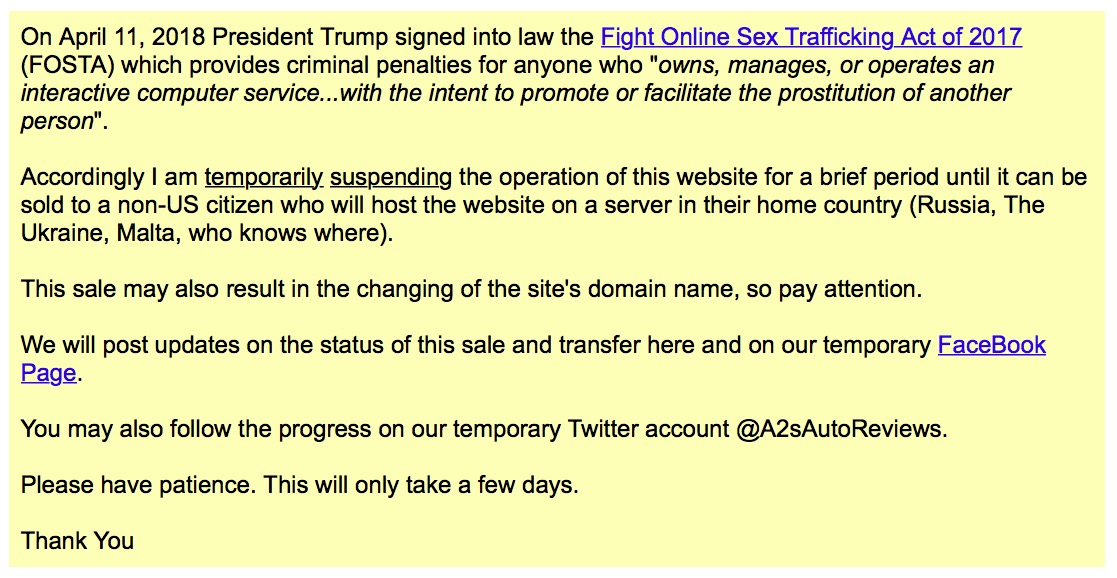 After FOSTA's passage in the U.S. Senate (but before it became law), a number of adult service websites responded by shuttering operations or focusing on non-U.S. clientele. CityVibe.com and Nightshift.co closed their sites, while Craigslist cut its personals listings.
As we reported, TheEroticReview.com closed its site to all U.S. traffic, and later the U.S. government seized Backpage.com.
In 2017, USASexGuide boasted 503,000 users, with countless more logged in as guests. According to Xbiz, since its launch in 2005, the site had more than 3.3 million reports on more than 18,000 topics.
USASexGuide continues to offer so-called "johns' boards," where users can discuss escorts, massage parlors, strip clubs and streetwalkers in 17 American cities. The platform has long been a forum where "mongers" could provide information about, and offer / solicit assistance to facilitate meeting with, local sex workers.
USASexGuide.nl's operator this week explained what has transpired in the past month on the new site.
"First and foremost, thanks for waiting," USA Sex Guide's operator said. "We missed all you guys. You will note the new URL. The name is essentially the same, it's just in Holland where buying pussy is legal and the Dutch kinda dig telling everybody to fuck off.
"The site is also pretty much the same. We did some upgrades, and it's owned by a Bulgarian guy now … but the site itself is and will remain the same."
The site is currently running slow and some parts of it are broken, the operator acknowledges, but will supposedly be fixed in time according.