Christy Mack Headlines at East St. Louis Hustler Club May 18-19
This weekend, May 18 – 19, adult film superstar Christy Mack takes the stage at the East St. Louis Hustler Club in Washington Park, IL. Mack will be performing two shows nightly, starting at midnight. Between shows she will be mingling with the guests, taking photos and doing lap dances.
A portion of the proceeds will benefit the Humane Society of Missouri.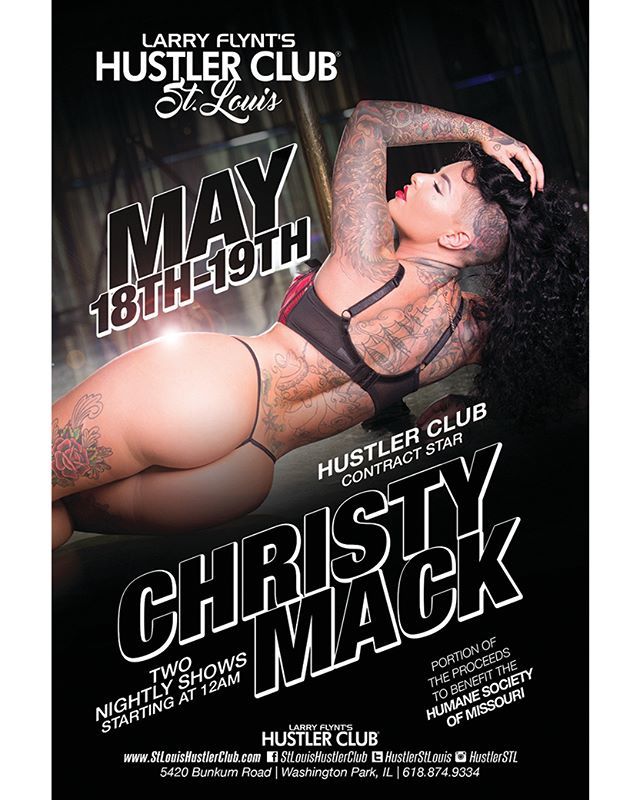 The gorgeous Mack started out as a tattoo model for mainstream magazines such as Rebel Ink and Inked Girls. In 2012, she started her career in the adult industry, starring in videos such as Hot Body Ink (Elegant Angel), Whores INK and Inked Angels (Evil Angel), and Ink Girls (Wicked Pictures). Mack portrayed the DC Comics character Zatanna in the 2012 porn parody The Dark Knight XXX from Vivid Entertainment.
"I can't wait to rock the stage at Larry Flynt's Hustler Club and party with my fans," Mack said. "These shows will definitely be standing-room only, so make sure to get there early."
The East St. Louis Larry Flynt Hustler Club is located at 5420 Bunkum Rd., East St. Louis, Ill., 62204.
East St. Louis lies just across the Mississippi River from St. Louis, Missouri.
Click here to check the club's website.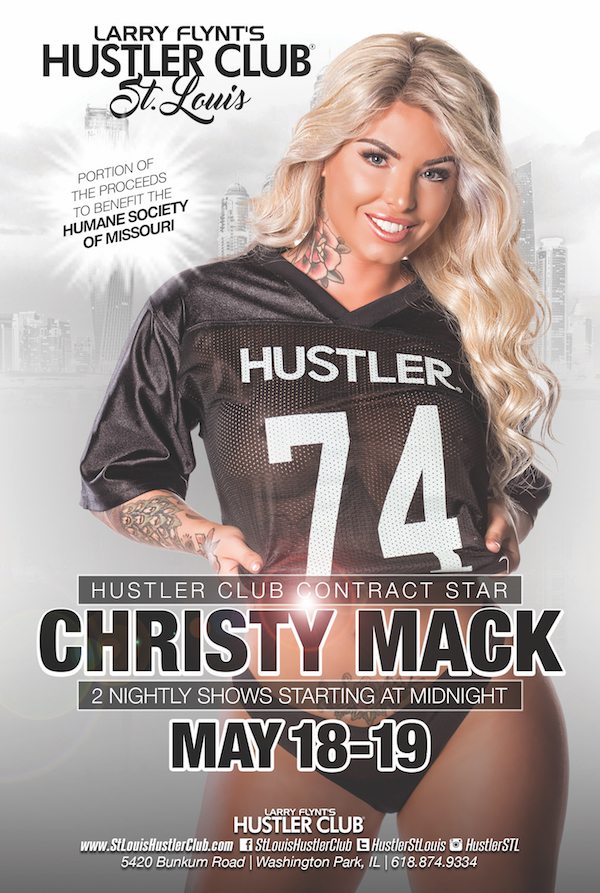 Buy your Party Pack now: http://stlouishustlerclub.com/party-packs
Call for advance reservations: 844-874-9334
Larry Flynt's Hustler Club
5420 Bunkum Rd
Washington Park, IL 62204
618-874-9334
http://www.stlouishustlerclub.com/
LIKE US: http://www.facebook.com/stlouishustlerclub
Follow the East St. Louis Hustler Club on Twitter https://twitter.com/HustlerStLouis and Instagram http://instagram.com/hustlerstl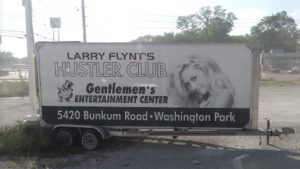 Two-fisted reporter. That's not my microphone, I'm just happy to see you.