Nikki Phoenix Health Update
For those of you who don't know, porn star Nikki Phoenix is in the hospital in Las Vegas. She suffered a mild stroke last night at about 4 am.
She is expected to spend the next few days in the hospital but assures her fans via Twitter that she is okay and being well-taken care of.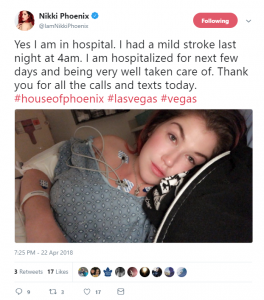 Nikki Phoenix is only 30 years old so something like this was quite unexpected.
Hello, my name is Kelli Roberts. I am a published author, AVN nominated producer, and webmaster who has worked in the adult industry since August of 1996.