Trump Camp Rumored to be speaking to Stormy's soon to be ex-husband
Rumor has it Donald Trump's camp is super happy about the news that broke today that Stormy Daniels is divorcing her husband and that things aren't going well. In fact, I hear from a good source the Trump camp has already been in contact with her soon to be ex and are looking to make their own deal with him in exchange for paying his legal bills for the cost of the divorce and child custody battle that is about to go down.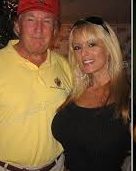 I'm here to give you the 411 about porn stars and in the adult industry as a whole.