F.U. Pay Me, Part Deux: Stormy Daniels Sues Donald Trump, Alleges 'Hush Agreement' Invalid Because He Never Signed
Breaking news from NBC (UPDATED 3/8/2018 — White House Press Secretary slips up!). . . .
Stormy Daniels sued President Donald Trump Tuesday, claiming that he never signed the nondisclosure agreement that his lawyer had arranged with her.
The civil suit, filed in Los Angeles Superior Court and obtained by NBC News, alleges that her agreement not to disclose her "intimate" relationship with Trump is not valid because while both Daniels and Trump's attorney Michael Cohen signed it, Trump never did.
Daniels signed both the agreement and a side letter agreement using her professional name on October 28, 2016, just days before the 2016 presidential election. Cohen signed the document the same day. Both agreements are appended to the lawsuit as Exhibit 1 and Exhibit 2.
Click here to read the "Hush Agreement" and the side letter agreement
Whilst Daniels' lawsuit does not demand damages, a judicial declaration that frees her from the terms of the hush agreement would allow her to sell her story for far more than the $130,000 she was paid to keep quiet. In short, the suit can be seen as a kind of renegotiation. Michael Avenatti, Daniels' lawyer, also said that she is "prepared" to return that money if need be.
UPDATE:  Although her attorney, Michael Avenatti, said Daniels wasn't looking to profit from her story, he later told CBS: "I don't know whether she's going to ultimately seek payment or not."

The 'hush agreement,' as it's called in the suit, refers to Trump throughout as David Dennison, and Stormy as Peggy Peterson. In the side letter agreement, the true identity of DD is blacked out, but Daniels' attorney, Michael Avenatti, says the individual is Trump.
Each document includes a blank where "DD" is supposed to sign, but neither blank is signed.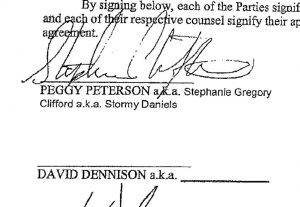 According to the lawsuit, which Avenatti announced in a tweet, Daniels and Trump had an intimate relationship that lasted from summer 2006 "well into the year 2007." The relationship allegedly included meetings in Lake Tahoe and at the Beverly Hills Hotel.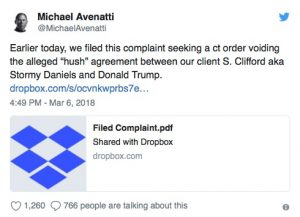 The 2016 hush agreement directed that $130,000 be paid into the trust account of Daniels' then-attorney. In return, she was not to disclose any confidential information about Trump or his sexual partners to anyone beyond a short list of individuals she'd already told about the relationship, or share any texts or photos from Trump.
The suit alleges that Cohen has tried to keep the porn star from talking about the relationship as recently as Feb. 27, 2018.
"To be clear, the attempts to intimidate Ms. Clifford [Stormy Daniels] into silence and 'shut her up' in order to 'protect Mr. Trump' continue unabated," says the suit. "On or about February 27, 2018, Mr. Trump's attorney Mr. Cohen surreptitiously initiated a bogus arbitration proceeding against Ms. Clifford in Los Angeles."
Daniels and her attorney, Michael Avenatti, are asking the Los Angeles County Superior Court to declare that both the hush agreement and the side agreement "were never formed, and therefore do not exist, because, among other things, Mr. Trump never signed the agreements."
"In the alternative, Plaintiff seeks an order of this Court declaring that the agreements in the forms set out in Exhibits 1 and 2 are invalid, unenforceable, and/or void under the doctrine of unconscionability."
The suit also says that Trump must know that Cohen is trying to silence Daniels, since rules for the New York bar, of which Cohen is a member, require him to keep his client informed at all times. "[I]t strains credulity to conclude that Mr. Cohen is acting on his own accord and without the express approval and knowledge of his client Mr. Trump."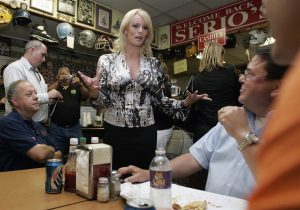 The White House did not immediately respond to a request for comment. President Trump's outside attorney, John Dowd, declined to comment on the lawsuit.
Trump has never addressed the alleged relationship publicly, and White House spokesperson Raj Shah told members of the press he had never asked the president about the alleged relationship. Cohen has acknowledged the payment, but has repeatedly declined to tell NBC News what the payment was for.
Daniels had previously given conflicting accounts of her relationship with Trump. In the lawsuit, Daniels alleges that in January 2018, Cohen, "concerned the truth would be disclosed … through intimidation and coercive tactics, forced Ms. Clifford into signing a false statement wherein she stated that reports of her relationship with Mr. Trump were false.
UPDATE: The White House now said on Wednesday that President ] Trump has already won an arbitration case against Daniels.
Press secretary Sarah Huckabee Sanders declined to provide additional details, referring questions to Trump's private attorney, Michael Cohen, who did not immediately respond to requests for comment.
Sanders said Trump has made "very well clear" that none of the allegations are true. Sanders says the case has already been won in arbitration.
THE BIG PROBLEM here is that Sanders told reporters that the arbitration was won "in the President's favor."  This statement constutes an admission 1) that the nondisclosure agreement exists, and 2) that it directly involves the President. It is the first time the White House has admitted the President was involved in any way with Daniels.