Rocco Siffredi comments on Cristiano Ronaldo rape allegations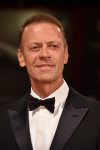 Italian adult film legend Rocco Siffredi has responded to the rape accusations against the world famous Portuguese Juventus striker Cristiano Ronaldo.
Apparently the #BelieveAllWomen mania has not overrun Italy, as Siffredi is quoted as saying (my translation),
"I don't believe all these tales when girls say that they have been raped by someone very famous. It occurs very not often. I don't think Ronaldo is a monster; he's not such a dick to rape someone. Cristiano loves life and likes to enjoy it. I cannot believe the allegations of rape."
Ronaldo is the focus of a criminal investigation in Las Vegas, accused of rape, with police re-opening a case from 2009. He has denied the accusations on Twitter, labelling it an "abominable crime" and that the claim is being made "by people seeking to promote themselves at my expense."
Fans of adult entertainment have become all-too-familiar with false allegations of rape and abuse, such as those leveled by Leigh Raven. These shameful, selfish acts hurt not only the falsely accused, but also every actual victim who will now have a harder time being believed.
In the meantime, Juventus coach Massimilaino Allegi will continue to play Cristiano Ronaldo amid the police investigation, ESPN reports.
Allegri said at a news conference Friday that there is no reason to take Ronaldo out of the lineup and rest him for Saturday's clash with Genoa. Cristiano Ronaldo has a 100 percent appearance record for the Bianconeri in Serie A and has scored four and set up five in his eight Serie A games this season.