Is Alana Evans Lying About Trump? The answer may shock you! *** READER EMAIL
We just got an email. Take it for what you will.
Listen I don't want to get into some heated debate with the crazy chick so I please don't attach my name to this story but I think it needs to be out there. People should know the truth.
Alana Evans has been all over the news claiming that she was the mysterious 3rd girl present at the Donald Trump event. Jessica Drake and Stormy Daniels can prove they were there.  Trump was photographed with everyone at the event which took place in July 2006 at the American Century Celebrity Golf Championship, a three-round tournament at the Edgewood Tahoe golf resort.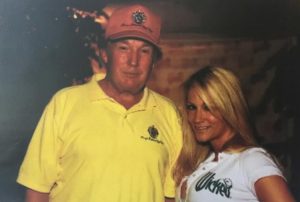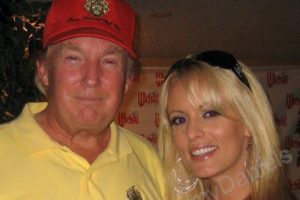 Everyone says that Stormy Daniels and Jessica Drake where at the tournament doing promotional work on behalf of Wicked Pictures.
So why would Alana Evans have been at the event with Wicked contract girls?
Wouldn't it have been more likely that the other Wicked contract girls have been there? Why would they have Alana Evans there? She was never that IN with Wicked during her career.
If you look at her film history which anyone can do, Alana Evans was only doing G/G back then and only appeared in one movie for Wicked Pictures that year, Creme Brulee, a low budget gonzo flick. The other handful of movies she was in for Wicked during 2006 were all comps. Why would they pay Alana Evans for promotion? That doesn't make sense.
If they were going to hire girls to represent the Wicked brand why wouldn't they send in Wicked contract girls?
2006 was a big year for Wicked Pictures. Stormy Daniels and Jessica Drake were their big named contract girls, but they had others. They weren't the only two. At the time there was also Julia Ann and
Their big movie that year was Manhunters. That was where all their marketing budget was being spent. You know who wasn't in that movie? Alana Evans.
In 2006 Wicked Pictures had under contract Stormy Daniels, Jessica Drake, Julia Ann, Carmen Hart, Kirsten Price, and possibly Kaylani Lei.
So you tell me, is Alana Evans telling the truth? If she is, where is her proof? Trump took a picture with everyone there that day. Where is her pic with Trump?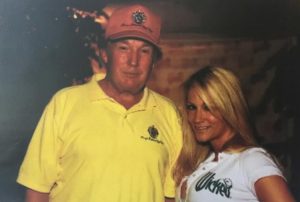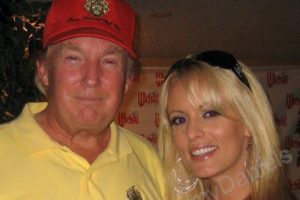 Alana Evans told People magazine she got a call from Stormy Daniels to join her and Donald in his hotel room.
Why would she have been close enough to go if she wasn't at the event? What was she doing at the Edgewood Tahoe golf resort if she wasn't there for the event? That's a good 8-hour drive from LA.
If Stormy called her to go to Trump's room, why would she call someone who was 8 hours away? She wouldn't! So if Stormy Daniels did call someone to go hang out with her and Trump, it was someone else at the event.
So what other Wicked girls were there?
Alana Evans has a long history of being full of shit. Look at what Mike Quasar said about her.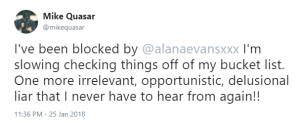 Why is Alana Evans lying about being there? She's either covering up for someone who was there, a friend who might be feeding her details or maybe she is just wanting to get her 15 mins of fame to promote her union.