What about Adriana Chechik? *** READER EMAIL
I got an email the other day that read ….
Someone else made a post about Adriana Chechik's pussy parties the other day but that isn't half the story. Why do everyone keep giving her a pass on her bullying?
I wrote the guy back and asked him what he was talking about. He wrote me back a long email that quite honestly doesn't paint a pretty picture. I don't know if the story is true or not. I will let you read what he said and draw your own conclusions.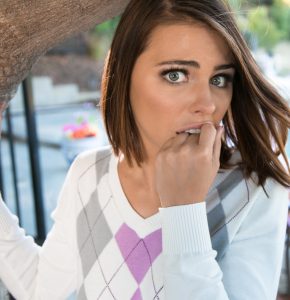 The dispute going on between Adriana Chechik and Pocket Tease isn't a pretty one. There has been some serious bullying going on in the world of pornstars and Abby lee Brazil got caught in it as well.
Adriana Chechik has been doing some serious bullying on twitter. She and her band of bullies went all in on Pocket Tease and wrote some pretty mean posts and comments that didn't have a positive effect on the girl. A lot of people link Adriana Chechik's bullying to the fact that Pocket Tease dropped out of porn production not so long ago.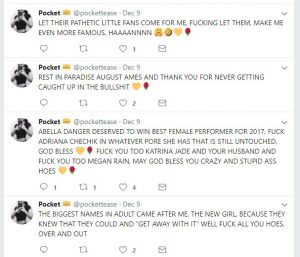 There has been some serious drama going on between Tapa Bay and Lana Rhodes at the nightmoves show. Some girls just can't stay calm when it comes to competition. If you were to believe the narrative that Adriana and her friends gave, Lana Rhodes was pretty high during the event when the winner was announced. That would later be proved false though.
She worked hard all year and expected to take the award home with herself but it didn't happen. If you were to believe Adriana, it took her only a few moments to snap and try to use Adriana as a punching bag. After she attacked her, the police showed up on the scene and arrested her.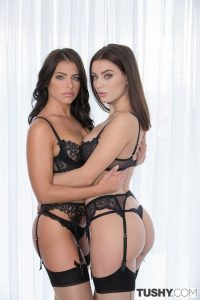 Some people said that she was in jail for the night, but that story quickly turned out to be far from reality. Lana even went through a drug test and it turned out that she was completely clean during the event as well. To make things even crazier, it was also revealed that Adriana Chechik's friends offered Lana the drugs during that faithful evening.
So, it's fairly obvious that Adriana wanted to make this girl as miserable as possible.
A lot of bad things have been said about Lana Rhodes during the first few days post the event, and all of which turned out to be nothing but utter lies.
Adriana Chechik's band of haters really wanted to harass her for weeks and crush her image in front of the public. Lana didn't say a single thing publicly against them, she didn't even put up a fight when they attacked her on social media. She just patiently waited for the flood of lies to pass.
Did all this just go by, without Adriana and Abby Lee Brazil having to take responsibility for their lies?
It has turned out that nothing they said about Lana was true. Lana Rhodes just got upset and left the show. She sat in the car and waited for the show to end so she could finally go home and be done with it. That's where things got crazy. Lana's name was called, as she was the winner of another award. Numerous other girls were rushing to the car to get her out so that she could accept the reward, but she interpreted the situation differently.
Adriana and the other girls tried to pull her out of the car by grabbing hold of her arm but she refused. She thought that the girls were trying to get a hold on her and beat her up right there.
When things seemed like they were getting out of hand, some bodyguard that was there stepped outside of the car and put an end to the dispute. The bodyguard knew that group of girls for years, since they were working together for quite some time. Since he was there, he told plenty of people what actually happened, when the lies were flying on social media. He leaked the story, and it's great that he did.
But the lies are still out there and nobody is doing anything about it. Nobody is asking Adriana and Abby lee Brazil to take responsibility for them, even though they both bullied Lana Rhodes for weeks. You could even see it in their live Instagram talk.
Adriana and her squad of bullies have a lot of other victims, such as Bella Rose, August Ames and Pocket Tease. So when will this injustice come to an end? Who will put a stop to it?
Here is the tweet Adriana sent out to August ames the day she killed herself.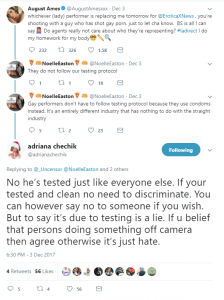 By itself it seem harmless but consideirng all she went thru that day, it just because another person causing her pain on the last day of her life.
There's your performer of the year.