Brick Dangerous calls Uma Jolie a liar!
Now that we've outed Lauren Phillips for being the piece of shit that she is, let's talk about Brick Dangerous.
Today he retweeted this ….  "All the white victims who died at the hands of the white shooter had their white privilege revoked, I guess. Classic Talcum X."
I might have let go if a few hours later he didn't open his mouth again. This time he attacks a performer who was thought to be sexually assaulted on a set by a producer at MOFOS while in Florida.
Uma Jolie tweeted out this message to her fellow performers.
What does Brick Dangerous have to say in response?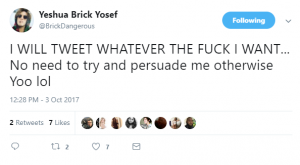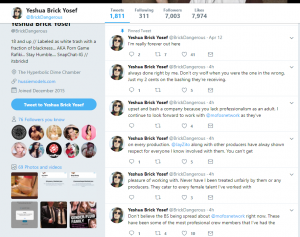 He calls her a liar and says she is the one in the wrong. He attacks the victim as if somehow it was her fault she got sexually assaulted and mistreated on a set down in Miami.
He was right about one thing – he can tweet whatever he wants.
But you know what? We can report on whatever we want to and today we choose to report about ass holes like him!
Does it surprise anyone that his twitter profile says he works for Hussie Models?