'Pansexual' Douche Jaxton Wheeler Sets Twitter Account to Private, Tries Spin in Wake of August Ames Bullying
The gay male porn performer and douche who helped cyberbully adult star August Ames says he does not believe he played a role in her taking her own life.
"As a matter of public record, my comment [the cyanide one] was posted after August had chosen to take her life," Jaxton Wheeler told gay news site TheSword.com.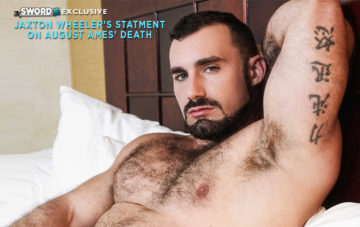 In a stunning illustration of Wheeler's utter lack of self-awareness, Wheeler continues to portray himself as the misunderstood victim: "I am disappointed my comments have been used to distract from my original issues [that] have inappropriately been attributed as the reason August chose to take her life."
See, his issues are all valid and good, it's just that the breeder dummies and homophobes who just don't get it are being unconscionable ballbreakers!
Listen, buddy, August pleaded with tweeters to see her side of the story, giving clear examples to illustrate that her initial tweet on the subject of working with 'crossover' talent, if indelicately phrased, had been taken out of context and wrongly, needlessly politicized. But you and your pals chose to ignore those pleas, and trudged on, attacking and humiliating her.  So, how about 'fuck you'?
And what were this douche's issues? Wheeler says, "All adult professionals have the same screening and testing protocols. As a performer, she knew that, but she put it out there to her half-million Twitter followers who didn't. Now they believed it."
Well, dumbass, you're mistaken about that too. A high percentage of gay scenes are condom shoots, thus no test is involved. The performers are "sero-sorted", either by the producer or by stepping off to the side with each other and giving their word tone another that, as far as they know they are or are not HIV-positive.  The shoots that do demand HICV tests mainly require only a cheap, inaccurate, long window period antibody test — the kind that AHF does for free at its pharmacies.  In Florida, some producers even send talent down to the nearest AHF to get tested. That is NOT the same level of testing as the "straight" dude of the industry. The ignorance is on that side of the fence, not the "straight" side.
And finally, no test is 100% foolproof. Nothing wrought by man will ever be. There will always be a small margin of error. Wanting to mitigate one's risk of illness vis-a-vis whom they choose have sex with, or in any other way, is a fucking human right, not an act of bigotry.
A Douche, no Danish
In his interview with The Sword, the douche continued, "My heart goes out to her friends and loved ones, and to all affected by this. Hopefully, this allows us to reflect on the choices we make on social media. It may be anonymous, but real harm can be done."  Who's "we" motherfucker? And you weren't even a anonymous. And neither were those of her peers — performers which huge numbers of followers — who used her suffering as an opportunity to grandstand and tell August to check her privilege.
Paxton, did I mention you're a total douche?
Wheeler has made his Twitter account private since receiving flack over his comments about Ames.
Martyrs
Wheeler has been a target of massive criticism since Ames' horrible suicide death, and says he is "pleading with people on both sides to put to an end to the verbal abuse and threats made so freely every day, and in particular, those directed at me right now."  LOL Once again, you're only piping up about the need to be nice online AFTER you and your swarm of PC bigots had your fun and it caused bad press for you. Get thicker skin, douchebag.
And one last word for TheSword.com, which wrote: "many crossover, gay and straight performers, and the gay community painted [Ames] as ill-informed and homophobic for amplifying the outdated belief that gay and bisexual men are threats to public health and safety."
Wrong. 1) They didn't "paint her", they SAVAGED her. The drove her to fucking suicide. and 2), although I'm astounded that I even have to mention it: gay and bisexual men, and 'men who have sex with men' (MSM) have THE SINGLE HIGHEST RATE OF HIV INFECTION, and similarly large rates of co-infections such as Gonorrhea and Syphilis. That's not homophobia; that's reality. One is more likely to become infected by an MSM than anyone other than another MSM who also uses IV drugs and/or travels to Haiti.  So, can the PR bullshit. Reality and science are not homophobic, or racist, or sexist. If the LGBT community is a little sore over the issue of its utter failure to get a handle on its medical issues over the last three decades, buck it up, buttercups. It's not a problem of August Ames' making, but your hypersensitive and butt-hurt lynch mob (and I don't mean physically) IS something for which you are culpable as a community.
There's only one victim in this tragic series of events, and it's not the self esteem or PR ranking of sexually active gay and bi men.
And Paxton Wheeler is still a douche.
I never felt more satisfied or optimistic than when I rode the river in my youth.