GOP fundraiser says computer hack by Qataris led to the exposure of affair with Playmate Shera Bechard
Republican fundraiser Elliott Broidy says a hack of his computer files by agents for the nation of Qatar led to the exposure of his affair with and payoff to Playboy Playmate Shera Bechard.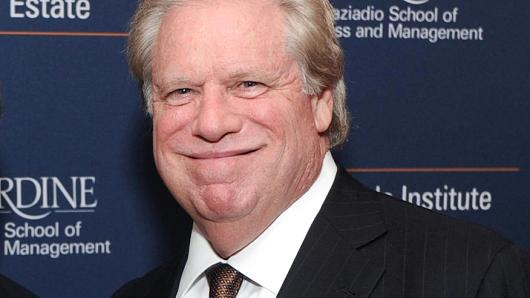 Broidy believes material related to his relationship with Bechard and the subsequent payoff to her was stolen and then later leaked to The Wall Street Journal, his spokesman, Harvey Englander, said.
The married Broidy, a venture capitalist, also "absolutely" believes the subsequent leak about the affair and the payoff to Canadian model Shera Bechard, 32, was intended to discredit his stance against Qatar, Englander said.
Bechard, who grew up in the small French town of Kapuskasing, Ontario, was once the girlfriend of Playboy founder, Hugh Hefner.
The Journal's story ran on April 13. and detailed how President Donald Trump's personal lawyer Michael Cohen had negotiated a deal to pay the Playmate $1.6 million after she claimed Broidy impregnated her and that she wanted to terminate the pregnancy.
That story ran less than three weeks after Broidy first filed a federal lawsuit accusing Qatar of being behind the hack of his computer files.
The original lawsuit claimed that materials stolen from Broidy were leaked to media outlets to fuel negative articles about him. Those earlier articles did not mention any affair.
Broidy's affair came to light days after FBI agents in New York raided Cohen's office, apartment and a hotel room where he had been staying, as part of an ongoing criminal investigation into the attorney.
Who's the playboy
In recent weeks, conspiracy theorists in the media have claimed that Broidy May Have Been Covering for Trump in That Playmate Affair, alleging that Broidy took the fall for the president, and that Trump may have ben the one to get her pregnant.
In the last days of the 2016 presidential campaign, Cohen paid $130,000 to porn star Stormy Daniels in exchange for her silence about an alleged affair she had with Trump.
Qatar trash
Broidy's lawsuit, filed in Los Angeles federal court, claims that Qatar targeted Broidy because of his "outspoken criticism" against the Arab state due to its "support for terrorism."
The amended suit adds as defendants Mohammed bin Hamad Khalifa al Thani, who is the brother of the emir of Qatar, as well as Ahmed al Ruhmaihi, who was responsible for $100 billion belonging to the Qatar Investment Authority.
New York-based corporate intelligence firm Global Risk Advisors, and its principals, Kevin Chalker and David Mark Powell, are also now listed as defendants in Broidy's suit.
The suit says that sometime before Dec. 27, 2017, Qatar or one of its agents retained Global Risk Advisors "to coordinate an offensive cyber and information operation" against Broidy and his company, "including by infiltrating" Broidy's computer networks in Los Angeles and by gaining access to Google email accounts of people connected to Broidy, his wife among them.
"We believe the evidence is clear that a nation-state is waging a sophisticated cyber information campaign against me in order to silence me," Broidy said in a prepared statement. "We believe it is also clear that I have been targeted because of my strong political views against Qatar's state-sponsored terrorism and double-dealing, and the fact that I was not shy about expressing my views."
'All but an act of war'
Broidy's lawyer, Lee Wolosky, said: "It is a crime for any person to hack into the emails of a U.S. citizen. It is all but an act of war when such an attack is orchestrated by a foreign government."
"In this lawsuit we are asking that Qatar be held accountable for its support of terrorism in any form, offline or online," said Wolosky, a partner at the firm Boies Schiller Flexner.
I never felt more satisfied or optimistic than when I rode the river in my youth.