Starlet Ana Rose Says ExCoGi.com Made Her Do Anal Against Her Wishes, Then Only Paid Her Non-Anal Rate
With the searing on-set abuse accusations by performers Leigh Raven and Riley Nixon still in the adult news headlines, another young performer has come forward with word of a sickening consent violation.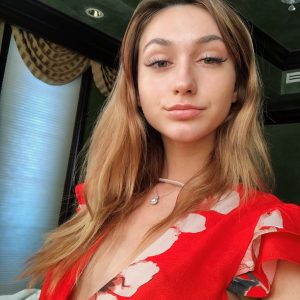 Adult starlet Ana Rose has alleged on her Twitter account that after being approached by a producer for amateur porn site Exploited College Girls about performing anal sex in what would be her very first boy/girl scene, she turned the offer down but agreed to a non-anal scene.
To support her version of events, the lovely and promising performer posted this photo of a text conversation, reputedly between herself and her agent, Riley Reynolds of Hussie Models, while Rose was on set: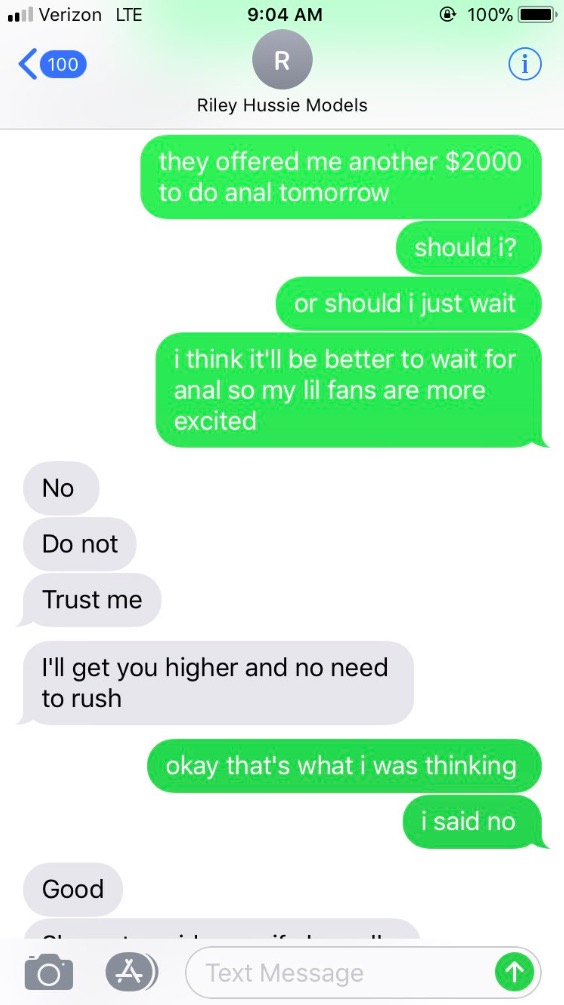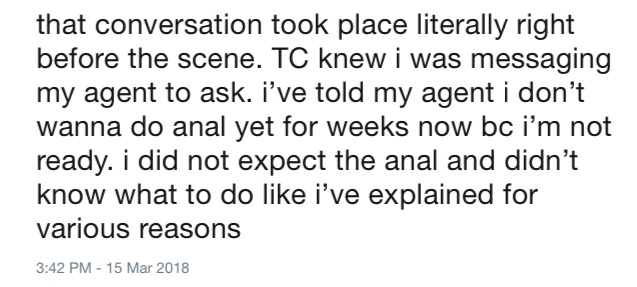 And now, instead of laying low, Exploited College Girls has been actively promoting the scene on Twitter.  AND even tagging Rose in the promo Tweets!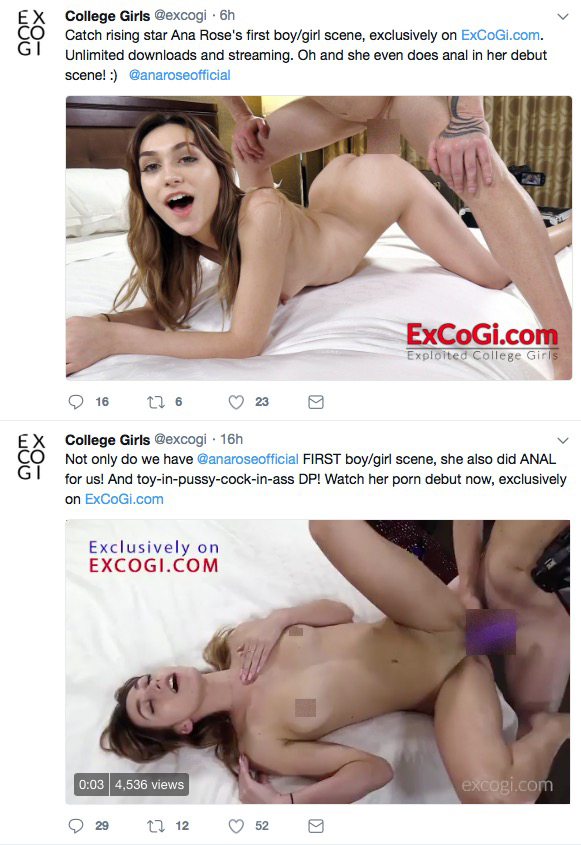 It's almost as it these guys are proud of the controversy. WTF?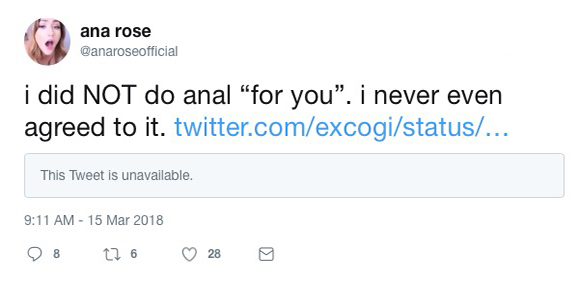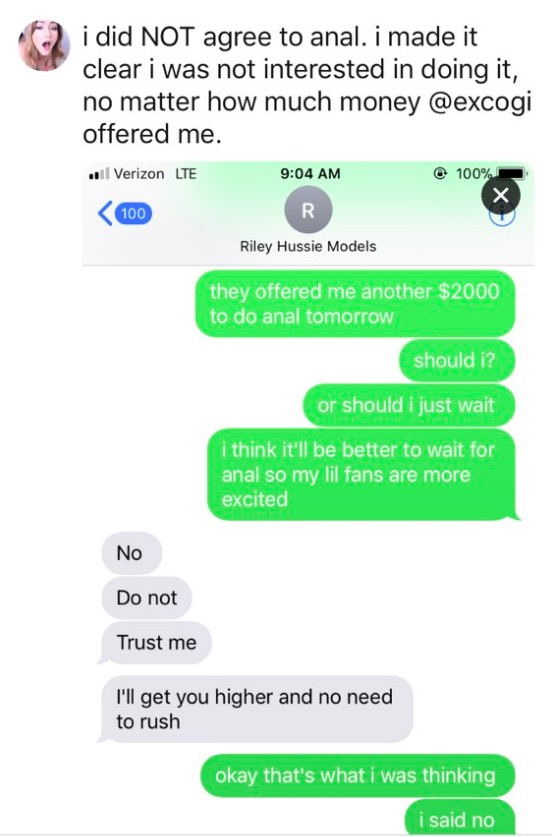 Of the unnamed male talent, Rose wrote: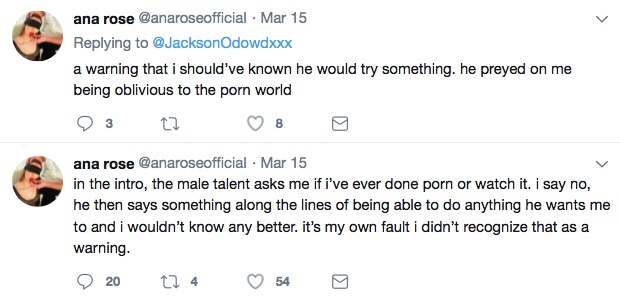 Insult to injury
According to the performer, in addition to making her perform an anal scene without her consent, ExCoGi then did not even pay Rose her stated anal rate.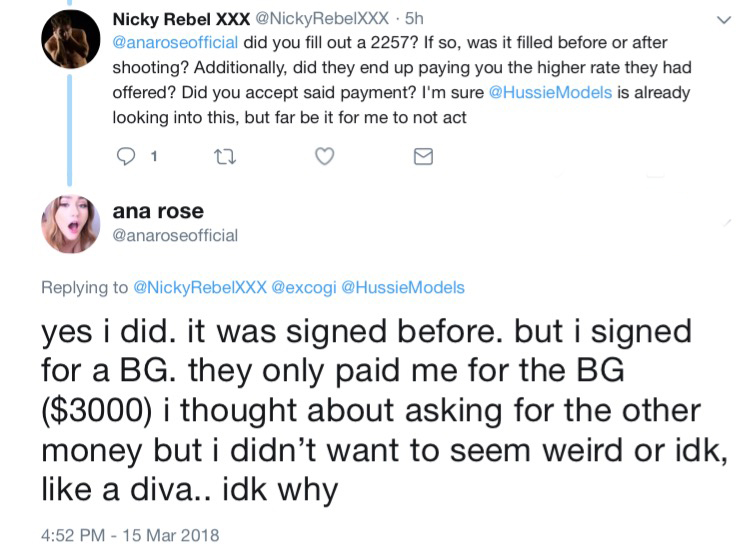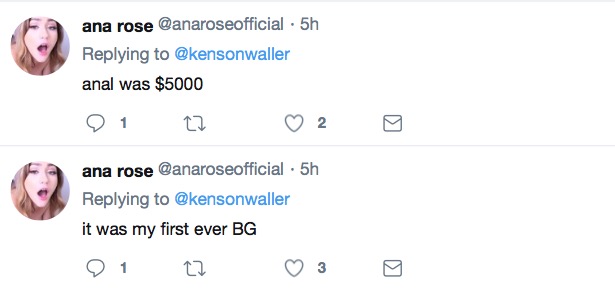 Rose says that while on set she went ahead and performed the scene out of fear.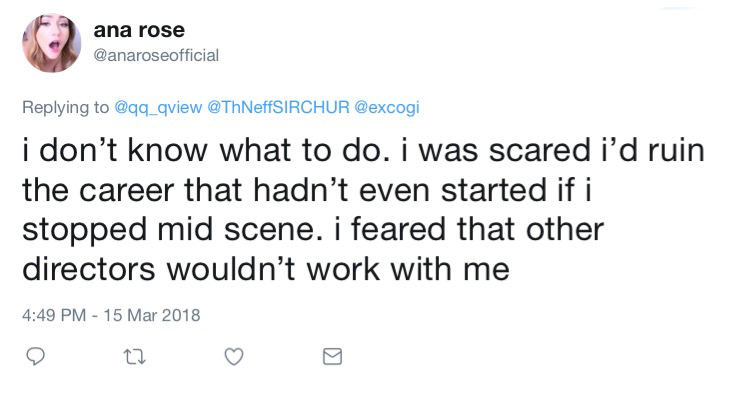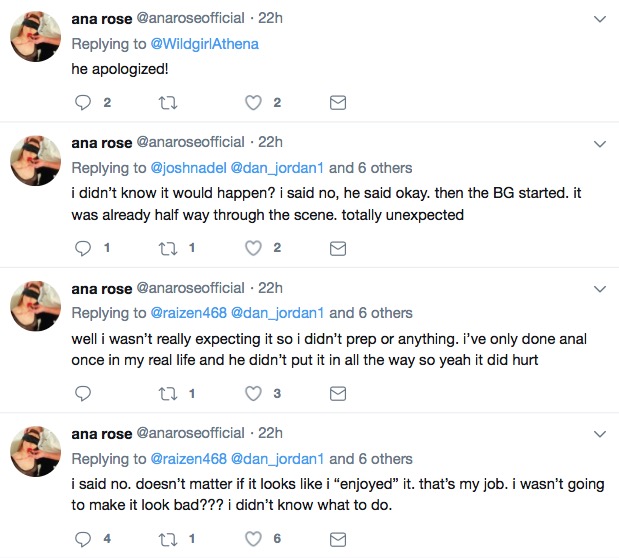 Rose says she's since learned that this producer has a bad rep.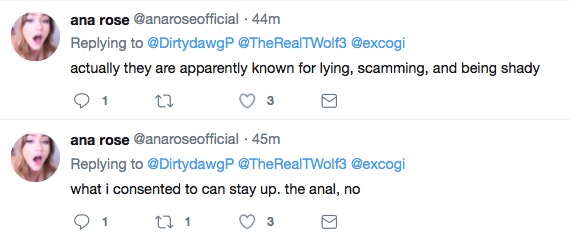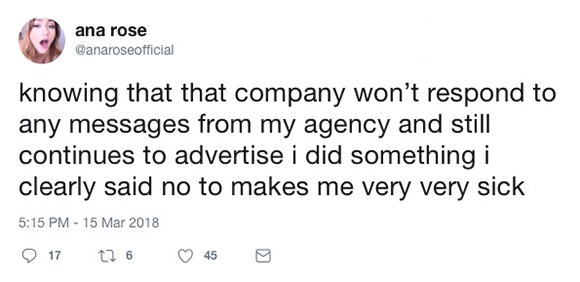 It makes us sick, too.
A now-familiar question obtrudes itself: where was her talent agent?
It's clear from the text message thread that Hussie Models most likely booked Ana Rose's scene for ExCoGi; at the very least, Riley Reynolds knew about it. Either way, it certainly appears that Riley didn't warn her about them being dishonest or dangerous. Didn't he know? It's his job to know.
It will be interesting to see whether Riley continues to send talent to shoots for Exploited College Girls. After all, he's the guy who said "there's no such thing as bad publicity" after he and his roster were featured in the porn-skewering documentary series Hot Girls Wanted.
At that time, it was Riley who said he was tricked, yet he still promoted the series.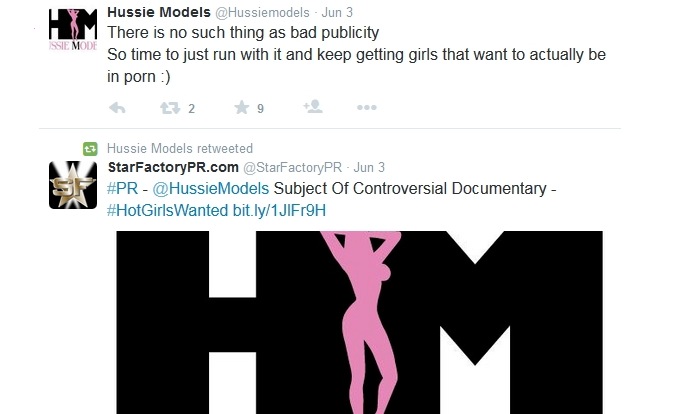 Ana Rose is scheduled to come to Los Angeles April 12 – 23 to shoot. We hope Porn Valley producers will book this beautiful young woman and show her what a professional shoot is like, as well as how a professional talent agency treats its models.
More on this story to come, but for now a rhetorical question: does anyone who's read this think this incident would have happened if Ana Rose were represented by Spiegler Girls, LA Direct Models or OC Modeling?