Natalia Starr Receives 7 Spank Bank Award Nominations
While enjoying her birthday in Paris, Natalia Starr found out she received 7 award nominations from IAFD.com's annual Spank Bank awards.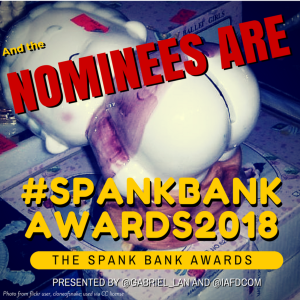 "It's not every day you wake up to find you are nominated having the Best Legs and a Bionic Butthole. Last year I was nominated for only two Spank Bank awards so I guess I'm moving up in the world," teased Natalia Starr. "Still, it's pretty cool when you are recognized for any facet of your work so I'm honored that they would nominate me in seven different categories. I know that IAFD.com has been around a long time and they are a great resource for fans when it comes to tracking who's who and what movies we have been in."
Natalia Starr's Spank Bank nominations include …
The Dirtiest Player in the Game
Most Awe-Inspiring Gape
Amazing Anal Artist of the Year
Best All Around Porn Goddess
Best Legs
Bionic Butthole
DP Dynamo of the Year
The Spank Bank Awards are a fun-natured group of categories founded on the idea of giving recognition to the performers in the adult industry who may (or may not) receive the accolades they deserve from other awards shows.
Hello, my name is Kelli Roberts. I am a published author, AVN nominated producer, and webmaster who has worked in the adult industry since August of 1996.