Washington Post on Stormy Daniels and Jessica Drake at AEE: 'Any exposure is good exposure'
Some excerpts from the Washington Post's report on last week's 2018 AVN Adult Entertainment Expo (AEE) in Las Vegas. It begins with one of two curious quotes from Jessica Drake:
Adult-film actress Jessica Drake made it clear that she did not plan to use her appearance at a four-day porn industry convention here to discuss her alleged encounter with Donald Trump in 2006.
"I'll talk when I'm ready to talk, or when I'm subpoenaed," said Drake.
But the mere presence of Drake and Stormy Daniels, another porn star with an alleged connection to the president who was set to attend the event, brought added frisson to this year's festival of all things pornographic.
"Any exposure is good exposure," said Bree Mills, an entrepreneur who launched her own all-female studio, Girlsway, several years ago. Mills said she welcomed mainstream attention to an industry that she says is evolving to produce work that is "no longer something men in trench coats feel they have to hide from their wives."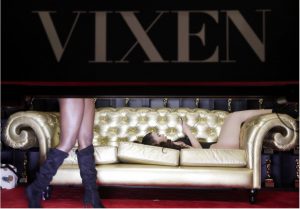 [ ] Trump's biggest impact at the annual porn convention at the Hard Rock Hotel & Casino was to put a brighter spotlight on Daniels and Drake, who had both been nominated for honors Saturday night in a red-carpet awards ceremony regarded as the Oscars of erotica.
[Neither woman ended up making the walk to the stage for a trophy. — SL]
Adult-film executives said they welcomed the spike in interest as the industry works to climb back from the Great Recession and fight off DVD piracy, which has cut into a key revenue stream. AVN chief executive Tony Rios said that he expected 35,000 people to attend the Las Vegas expo — the largest turnout in the past six years. The increase, he said, comes as the industry is shifting from major studio productions to online subscription models.
There are rules [at AEE]: Attendees had to sign a code of conduct that prohibited stalking and unwanted physical contact.
Drake used her appearance to criticize the "shame-centered" abstinence-only education she says she was raised with as a Jehovah's Witness.
"Sex education sucks," said Drake, who also works as a sex educator.
Drake, whose real name is Angela Patrice Heaslet, alleged in the fall of 2016 that Trump hugged and kissed her without her consent at a 2006 charity golf tournament. She was among about a dozen women who came forward late in the 2016 campaign to say that the GOP candidate touched them inappropriately.
At the same 2006 golf tournament, Daniels — whose real name is Stephanie Clifford — claimed she had an affair with Trump, according to a recently published interview that she gave to In Touch Weekly in 2011. The Wall Street Journal reported this month that Daniels received $130,000 days before the 2016 election as part of a payment arranged by a Trump attorney.
The White House official dismissed Daniels's account as "old, recycled reports, which were published and strongly denied prior to the election." Trump lawyer Michael Cohen released a statement signed by Daniels denying an affair and calling reports of a payment "completely false."
Daniels, who has declined to comment, is now enjoying newfound attention. Earlier this month, she kicked off a "Making America Horny Again" tour at a South Carolina strip club. She is booked to appear Tuesday on ABC's "Jimmy Kimmel Live!" following Trump's State of the Union address.
For her part, fellow porn star Alana Evans, who said she was a friend of Daniels, had her own plans for making the most of the controversy: She spiced up her expo act by bringing in a male performer who specializes in spanking to impersonate the president.
Trump's history suggests he could have been an ally of the porn industry.
As a New York developer, he posed in a white dress shirt and bow tie for the March 1990 Playboy cover alongside a woman wrapped in little more than his tuxedo jacket. He made a cameo appearance in a soft-core porn movie. He rewarded contestants from Season 6 of his reality TV show, "The Apprentice," with a pool party at Hugh Hefner's Playboy Mansion.
"I do not believe in tearing Trump down for something I am in support of," said porn actor Michael Vegas, though he said he is no fan of the Republican president.
At a Thursday afternoon panel titled "Law and Disorder: What's Ahead in 2018" a team of lawyers assessed how the current political climate might affect the porn industry.
"This industry is more than a business — it's a family, a community," said Eric Paul Leue, who heads pornography's trade organization, the Free Speech Coalition. Allan Gelbard, a First Amendment expert, warned that the administration might take action against porn to boost support of Trump's evangelical base.
I never felt more satisfied or optimistic than when I rode the river in my youth.