Super Bowl LII Viewers Love Them Some Porn: Game Day Traffic Stats
Patriots fans held off longer than Eagles fans, when it came to PornHub visits
In Super Bowl LII, which was played on Sunday February 4th, the Philadelphia Eagles defeated the New England Patriots 41-33, to win their first Super Bowl.  According to PornHub statisticians, traffic to mega-site PornHub fell during the event, while Patriots fans apparently turned to porn to ease their pain following the game.
In Massachusetts, traffic to Pornhub jumped as much as 26 per cent in the few hours after the game concluded, according to the website.  In fact, PornHub traffic in Boston – the beating heart of Patriots territory – was 28 per cent above normal by 1am.
Ecstatic Eagles fans did not turn to porn in quite the same numbers. Pornhub viewership was only up 13 per cent above normal at 1am in Philadelphia, while national viewership was up around 9 per cent.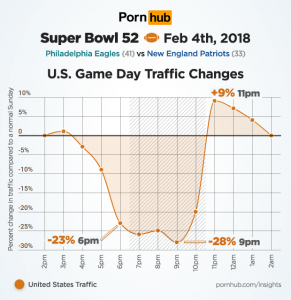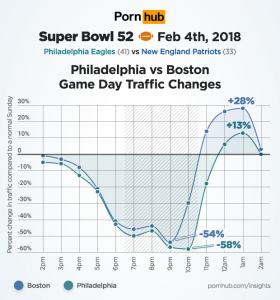 Game day traffic
The Super Bowl aired from 6:30pm to 10:30pm Eastern Time, and across the U.S. traffic dropped an average of -24% below that of a typical Sunday. The largest drop of -28% happened around 9pm. After the game ended, football fans made up for their porn hiatus with a +9% surge above average levels at 11pm. Seeing as Pornhub's highest traffic time of the week is 11pm on Sundays, that +9% represents a significant increase in visits.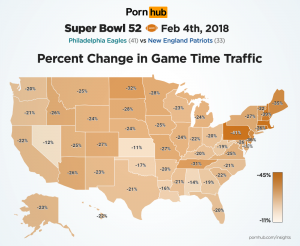 There seems to be no correlation between site traffic in Massachusetts and a Super Bowl win, however — residents of the Commonwealth are quick to drop their pants either way. When the Patriots were victorious after last year's Super Bowl, Pornhub's 2017 insights found there was still a 30 percent increase in site traffic immediately after the game.
Women vs. Men
Male game day traffic across the U.S. dropped by as much as -30% while female traffic dropped by only -22%. Female traffic remained equally low around 8pm, while male traffic increased slightly.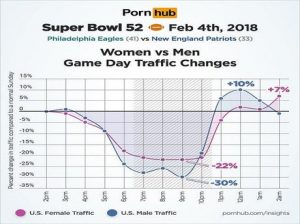 Perhaps women were more likely to stick around to watch Justin Timberlake's Super Bowl LII halftime show, while men took the opportunity to visit Pornhub? Post game traffic from men surged +10% at Midnight, while female traffic returned mostly to normal with a +7% increase at 2am.