Pornhub opens pop-up fashion shop in NYC's SoHo
The SoHo boutique is "more of a brand store and a fashion store than a sex shop," said VP Corey Price of the Wooster St, store which opened on Black Friday.
New York, NY — Like much of SoHo, Wooster Street boasts an array of fashionable names such as Chanel, Céline, Ted Baker and Moschino. And starting today, that roster will also include Pornhub.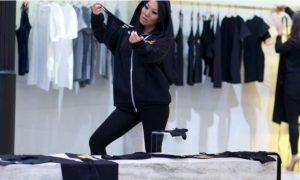 Yes, Pornhub, as in the adult entertainment website that receives more than 75 million visitors every day. The 10-year-old company is opening its first-ever fashion retail store in the heart of SoHo, and the pop-up location will be open at 70 Wooster St. until Dec. 20.
While it's a move that may be surprising to those who only know Pornhub as an adult entertainment provider, a brick-and-mortar retail store is a natural progression for the brand, which launched Pornhub Apparel in 2015 and has since done Fashion Week collaborations with streetwear brands Hood By Air and Richardson.
While the Wooster Street store intends to simulate the look and feel of Pornhub's homepage, thanks in part to a large video screen that will show SFW content, that's pretty much where similarities end — though vistors still need to be 18 or older.
"If we were going to make a retail store, we wanted to make sure we were in New York in SoHo, where all the fashion brands are," Vice President Corey Price told Metro. "We see this as a fashion store; it's much more of a brand store and a fashion store than a sex shop."
Source: Metro USA
I never felt more satisfied or optimistic than when I rode the river in my youth.