On Eve of FOSTA-SESTA Vote, Remember Sex Trafficking Laws Such as Mexico's Hurt Those They Supposedly Protect
Mexico provides another example of how legislation aimed at the myth of widespread international sex trafficking is merely a tool to prosecute sex workers
TUXTLA GUTIÉRREZ, MEXICO — Sitting at the kitchen table in her friend's apartment, Fanny Romero flicked her fingers across the screen of her smartphone, scrolling through seemingly endless WhatsApp messages from men inquiring about her availability for the night.
Huddled up to her, Anyela Zuniga scrutinized the names flying by on the screen. "Ugh, I blocked that guy, too. He gave me the creeps," she told her friend, pointing at one name as the scrolling came to a halt.
Both transgender women, Romero and Zuniga are sex workers in the city of Tuxtla Gutiérrez, the humid capital of Mexico's southern state of Chiapas. They work for themselves, communicating with clients through Facebook and WhatsApp and deciding their own hours and rates. Their occupation involves many risks and challenges ? the biggest of them all simply staying safe while on the job.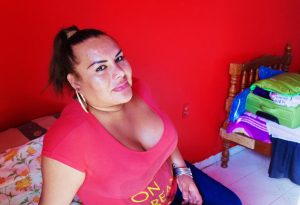 Law and order
In 2012, Mexico passed a law to combat human trafficking. Yet sex workers and their advocates say that the legislation actually hurts the people it's intended to protect, pushing an already stigmatized profession deeper into the shadows and making people working in the country's sex industry more vulnerable to violence and disease.
"It's very difficult because you see that in the streets we are exposed," Romero said from her kitchen table. "We are exposed to the possibility that a psychopath arrives and hires you, takes you to a motel, and you don't know what kind of feelings he may have toward you."
To have someone close in case anything goes wrong, Romero and Zuniga work out of their homes ? for Zuniga that's the apartment she shares with two roommates, for Romero the apartment where she lives with her two chihuahuas. Romero also rents out her home to friends and acquaintances who don't have a safe space to meet with their clients. That, however, puts her at risk of arrest, prosecution and imprisonment for up to 30 years.
When Romero rents out a room to fellow sex workers, she violates multiple articles under Mexico's 2012 law against human trafficking. Article 20 of the law prohibits obtaining "economic benefit" from the prostitution of another person. Article 41 goes even further: it forbids anyone from facilitating or collaborating with someone to do sex work.
The human trafficking law, which was last reformed in 2014, is based on a United Nations protocol created in 2000 that aims to "to prevent and combat trafficking in persons, especially women and children." But sex workers and their advocates say that in Mexico the legislation is being used to prosecute the women and migrants the laws are supposed to protect.
I never felt more satisfied or optimistic than when I rode the river in my youth.