Kissa Sins Says a Porn Performer Just Tried to Fake an HIV/STI Test Result – UPDATED
Porn star Kissa Sins claimed on Twitter Friday that a fellow performer "got caught photoshopping a test today. Remember to ALWAYS check PASS and not just the test pdf!!!!"
PASS is the adult performer test verification system that provides performers with electronic access to testing results directly from the labs, providing a secure way to validate a performer's HIV/STI test results, as opposed to relying on a paper test or a PDF file, both of which can be altered.
The document purported to be a valid test from Talent Testing Service (TTS), one of the industry's most trusted testing facilities.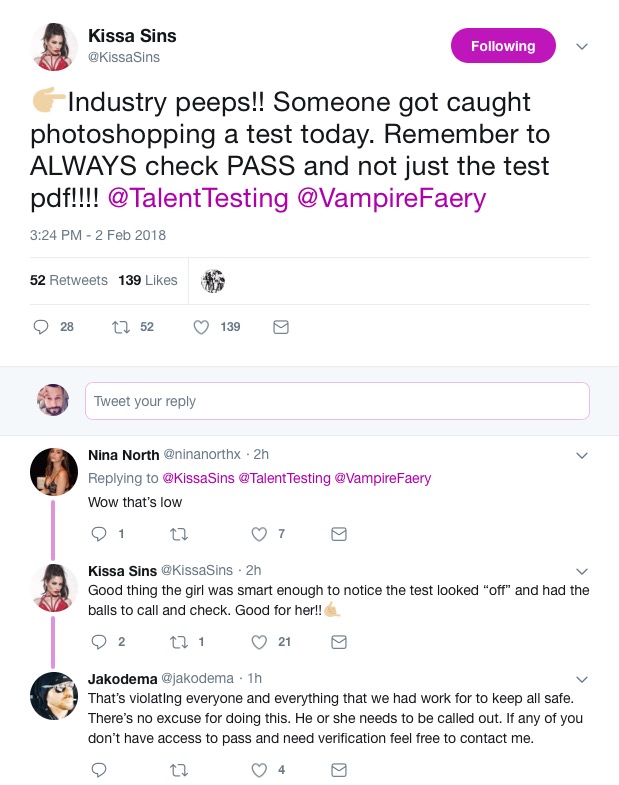 Sins added that a female performer had caught the fraudster in the act: "Good thing the girl was smart enough to notice the test looked 'off' and had the balls to call and check. Good for her!"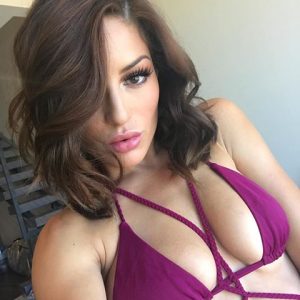 Sources confirm to MikeSouth.com that the talent who presented an altered test was a male going by the name "Chris Nixon", and that the incident happened on a shoot that was booked privately, and not by a lensed talent agency.
Violation
The altering of performer tests is widely considered the most blatant betrayal of one's responsibilities and privileges as a member of the adult community.  In 1997 – 98, performer Marc Wallace altered his HIV test results numerous times, hiding his HIV-positive status until April 1998. This repugnant act launched the first HIV outbreak in porn history and sent shockwaves through the industry that led to the creation of the AIM Healthcare clinic.
In 2012, performer Mr. Marcus admitted to altering his test to hide a positive test result for syphilis, but only doing so after he had undergone antibiotic treatment, and was thus no longer contagious. Marcus also alleged misconduct on the part of Talent Testing Service. Regardless, he had indisputably altered his test to hide the fact he had tested positive for syphilis, and in 2013 pleaded no contest to a misdemeanor charge of exposing another to a communicable disease.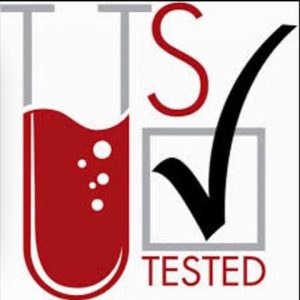 In February 2014, a crossover performer named using the moniker "Will Evans" was fired from an Adam & Eve set for attempting to use an HIV/STI test result with an altered test date. He had tested clean, but apparently did not want to get a fresh test.  In 2015, porn starlet Kristina Bell admitted using an altered test because she could not afford to get a new test. Her agent dropped her immediately.  Then in 2016, a Florida performer named Demi Lowe attempted to use a forged test purporting to come from TTS, but the shoot was promptly canceled when it proved unverifiable. In none of the three cases was anyone infected.
More information on the latest alleged fake test as it becomes available…
I never felt more satisfied or optimistic than when I rode the river in my youth.