AVN and XBIZ ditch the BBW category
As expected both XBIZ and AVN have removed the BBW category from the awards show this year. While XBIZ removed it all together, AVN now considers BBW a fetish-themed production, same as BDSM mature and other specialized genres. So anyone who wants to submit a BBW movie for a nomination can do so but it will be competing in the fetish themed genre.
In addition, AVN introduced a new category called Niche Performer of the Year to cover those fetish-themed productions.
As you might have expected some people are rather upset about it but in reality, they don't get a say as to what the awards categories are.
Awards are a privilege, not a right.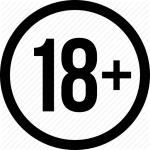 Bringing you all the insider information from the xxx industry.