Riley Reynolds of Hussie Models @HussieModels Punched One of His Models in the Face
WTF man, you want to talk about porn stars on TheDirty.com you forgot the Riley Reynolds of Hussie Models about the time he punched Charlotte Cross in the face and busted her lip.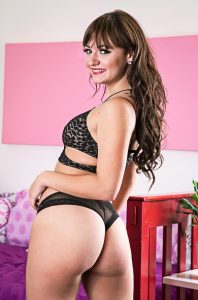 THE DIRTY ARMY: Nik, Riley Reynolds, the man behind "Hot Girls Wanted" is more than a Russia mafia looking thug. He must confused the profession of an agent with that of a pimp. He hit one of his pornstars, Charlotte Cross (and Adriana Maya also accuse him for other things too) Maya, and he preaches about the severity of a state law (not even federal) about doxing. Excuse me but first try not to commit crimes like public violence and hit a woman in public (a federal crime with more jail time) and then try to cite lesser laws…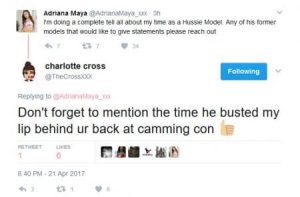 This is what she said about the incident in 2017.
There was a Ts model inquiring about representation and I was working the CC booth with Adriane Maya. The TS Model handed me her business card and asked if we represented trans performers. To which I replied, "I don't know if that is something we're interested in doing or not but it can never hurt to ask so let me get my agent for you."
went over to find Riley and explained what I needed him for. He came over, told the model that he wasn't interested. Then, he said, "Charlotte you fucking did that on purpose. Adriana, block me because I'm going to smack the shit out of Charlotte for being stupid." He grabbed my hair and pulled my head down behind her and hit me three times. I left Industry Day @ the convention crying with a bloody lip
He apologized after Bruno told him to never put his hands on me again and then said he was finding himself and took $200 off of my invoice. I left Hussie shortly after and didn't pay him my invoice immediately because I was scared to go over to his house alone. So two days after I left, he emailed every producer in Miami and said that I stole from him so if any of them hired me, he wouldn't do business with them. Someone I was close with ended up paying him $1200 to leave me alone… when I didn't owe him anymore than maybe $100 because he never got me work.