Anti-sex work bill SB 1204 withdrawn after failing to garner enough votes in Calif. Senate Committee
Sacramento, Calif. — California Senate Bill 1204 (SB 1204), which aimed to broaden the definition of criminal "pandering" in the state, and in the process essentially eliminate harm reduction and health services for sex workers, was withdrawn from the Senate Committee on Public Safety Tuesday and is very likely dead.
The amendment to the state's pandering statute would have made it easier to charge individuals who act as third parties, but failed to gain enough votes to move forward.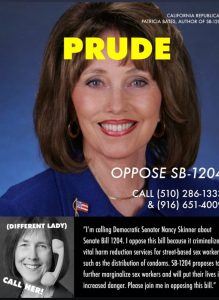 SB 1204, which was introduced by state Sen. Patricia Bates (R-Laguna Niguel), would have made it a felony to provide help or outreach to sex workers, including harm reduction services like distributing condoms or providing bad-date lists.
As Michael Ellsberg wrote in an excellent open letter about the bill:
SB 1204 radically re-defines the long-standing definition of "pandering," which has historically been conceived as providing financial inducement to someone to begin engaging in prostitution. The new definition, under SB 1204, will expand the felony to include any "encouragement" whatsoever towards engaging in prostitution, even if that "encouragement" takes place only in words and opinions, with no financial inducement.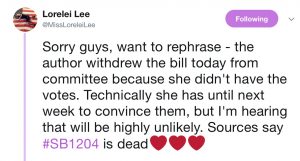 St. James Infirmary, a nonprofit AIDS resource center in San Francisco, argued that the bill could put health service providers at risk. "This definition has the potential to be used against agencies, like St. James, that are doing harm reduction work for sex workers," the agency said in a statement on social media, urging readers to call State Sen. Nancy Skinner (D – Berkeley), who chairs the Senate's Public Safety Committee, to oppose the bill.
The Free Speech Coalition and the ESPLER Project (Erotic Service Providers Legal, Education and Research Project) also condemned SB 1204 as a terrible idea.
Maxine Doogan of ESPLER Project said in a press statement:
This badly framed legislation repeats the same mistakes at the state level as the recent legislation #SESTA and #FOSTA passed by the US Congress. Both do not differentiate between consensual sex work and sex trafficking. And both make our lives less safe, as websites that could potentially be used for consensual sex work, from webcams to dating sites and social networks, will begin closing down (as Craigslist Personals or Nightshift already have), or censoring and banning sex workers. Without safe places to advertise and screen clients we will we be forced back onto the streets and into back alleys, where we will be preyed upon by sexual predators and abused by law enforcement. These bills cause real harm.

Senator Pat Bates uses the fake sex trafficking talking points pushed by the "sex prohibitionists", using fake statistics to argue that there is an epidemic of sex trafficking – and that legislators need "more tools" to address it. But there have been dozens of pieces of legislation over the past 18 years seeking to address trafficking – and law enforcement has signally failed to catch all but a few perpetrators – perhaps because there are hardly any there?
Doogan told XBIZ on Tuesday, after SB 1204 was withdrawn: "Finally our community that is the target of these bad laws is standing up to legislators who choose to craft legislation on our behalf without us. [It is an] approach lawmakers should never repeat."
I never felt more satisfied or optimistic than when I rode the river in my youth.