Pompa and circumstance: Model Paola Saulino banned from Instagram ahead of Italian general election
Paola Saulino previously vowed to perform oral sex on 'no' voters in a referendum.  After the 'no' vote was victorious, she claimed to have pleasured 700 men.
She maintains she is being silenced by Instagram over fears she could try to swing the outcome of Italy's general election.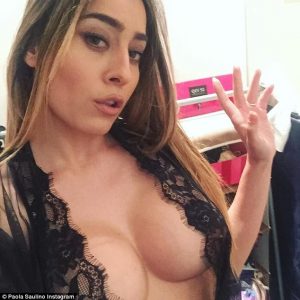 Prior restraint
A sexy Italian model who previously promised to blow anyone who voted 'no' in a referendum in Italy has found herself banned from Instagram ahead of the country's general election.
Paola Saulino, 28, says she has been barred from contacting her 430,000 followers over fears she may try and swing the vote, which is set to take place on Sunday.
Last December, 'No' voters won the referendum with a solid 59 per cent of the ballots. The victory prompted Saulino to launch the 'Pompa Tour' – which translates as Oral Tour – during which she claimed to have pleasured 700 male voters.
Now she claims politicians are terrified that she could wield that influence during the general election.
'They are scared that I could influence the result of the votes again. They are scared that I might launch another Pompa Tour for this election."
"If I influence people that's my business! I don't want pay the price for this."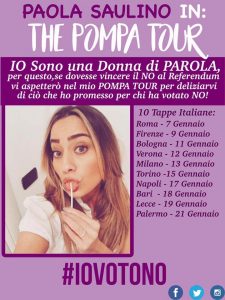 Pompa and circumstance
Saulino is presently planning "bigger and better" Pompa Tours across the globe after being flooded with invites.
"I just need to earn some money. I want to plan another Pompa Tour better. I want to go to America – but people from all over the world have invited me. Chile, Turkey, Belgium, everywhere; I can't wait to travel."
There are an estimated 17.8 million Italian-Americans living in the U.S., comprising around six per cent of the population.
Although most don't have dual citizenship, Paola is calling on all Italian-Americans who voted 'no' in the referendum last November to come forward, drop their pants and join her "movement".
However Paola's Instagram page was taken down suddenly — leaving it hard to update her fans.
She blames the social media giant for ruining her Pompa tour.
Paola told The Sun Online: "I've experienced this problem in the past but my (page) was down for less than a week and the reason that Instagram gave was that I have explicit content on my page.
"Which is obviously was not accurate because I never violated Instagram's policy.
"I created a movement for sexual liberation and freedom of self expression and it leads me to the idea that Instagram is not allowing me to express myself and spread my message, especially when I have only positive intentions."
I never felt more satisfied or optimistic than when I rode the river in my youth.