Let's have an honest, critical look at Michael Avenatti
As the bulldog lawyer for Stormy Daniels, the porn star suing U.S. president Donald Trump, Michael Avenatti basks in the media spotlight as few attorneys if any have done before. As one report notes snidely, "he's on CNN about as often as advertisements for My Pillow appear on Fox News."
However, all is not well in Avenatti-land, and troubling questions about him, his past, and and his agenda, keep piling up.
Follow the money
In his role of mouthpiece for Daniels, Avenatti is positively ubiquitous in the media. If he has any other clients, the Western Journal says, "he's either cloned himself or is taking so many prescription amphetamines that he not only doesn't sleep but can break the time-space continuum and be in more than one place at one time. If Daniels is his only client, that raises important issues about who's paying for him."
Former Bill Clinton advisor and leading pollster Mark Penn raised this issue in a column published by The Hill.
So exactly who is paying Michael Avenatti? And is he a lawyer, an opposition researcher, a journalist, or a campaign operative?

He wants to make the discussion all about where Michael Cohen, President Trump's personal attorney, got his money but, to have clean hands, Avenatti needs to come forward with exactly who is financing his operation, who his sources were for detailed banking information, and whether he really is an attorney solely representing Stormy Daniels or just using her as cover to wage a political operation.

From the beginning, this has been fishy. Daniels's previous lawyer advised her to stick to her agreements. In contrast, Avenatti okayed her violating with impunity her non-disclosure agreement on "60 Minutes" despite a binding arbitration judgment against her. She acknowledged on Twitter that she is not paying for her lawyer. So who is? And did he indemnify her against all multimillion-dollar penalties?

It took a long time and even a court battle to find out that the Clinton campaign and the Democratic National Committee paid for the Fusion GPS dossier, a fact that was disclosed only after the damage was done, as former British spy and the dossier's compiler, Christopher Steele, had already created a vast echo chamber as though the material he was peddling had been verified in some way, which of course, it never was. Now Avenatti is being allowed to repeat this same process, mixing truths with half truths and evading accountability.
Other questions
According to Business Insider, a company Avenatti once owned owes nearly $5 million in taxes to the IRS, and is fighting off 46 lawsuits — including actions from vendors and landlords. And according to the Seattle Times, Avenatti himself is facing an official complaint with the California Bar Association that questions Avenatti's "fitness to practice law."
As The Western Journal notes, it's not the image the media is presenting of the fearless, bulldog attorney standing up for his client against the most powerful man on earth. "But it's contributing to growing questions about who's bankrolling Avenatti's crusade against President Donald Trump."
Avenatti's tax bills and lawsuits stem from his ownership of a failed Seattle coffee shop company called Tully's that Avenatti bought out of bankruptcy with actor Patrick Dempsey (of "Grey's Anatomy" fame) in June 2013.
Two months later, Dempsey sued Avenatti to get out.
The 40 Tully's locations that Avenatti's company, Global Baristas, purchased in the 2013 deal had dropped to 15 by the beginning of 2018. In March, they were all closed.
As Business Insider reported:
Global Baristas failed to pay $4,998,198 in federal taxes last year, according to a tax lien filed by the IRS in August. That is in addition to thousands of dollars in state taxes the company failed to pay over the years, according to more than 20 state tax liens filed in California and Washington. Most recently, in early April, Washington state issued a warrant claiming Global Baristas owed more than $721,000 in state taxes.

Avenatti told Business Insider that, to the best of his knowledge, Global Baristas has paid the taxes it owed, though he also said it was not his responsibility.
Avenatti now claims he no longer owns Global Baristas.
Pursuing Avenatti as the legal rep for Tully's suppliers and landlords is Seattle lawyer David Nold. It was Nold who filed the complaint with the California Bar Association officially questioning Avenatti's "fitness to practice law."
Nold also doesn't believe Avenatti is no longer the owner of Global Baristas, the company at the heart of the back taxes and business lawsuits.
"Michael Avenatti's actions in connection with Global Baristas US, LLC, have caused significant damage to the State of Washington, the federal government and numerous private entities," Nold's Bar complaint states. "They subject him to personal and criminal liability. And they implicate his fitness to practice law."
And then there's Avenatti's problematic dossier on Michael Cohen's alleged financial dealings and money transfers. As NPR writes,
Everybody loves to say "follow the money," but it's actually quite difficult for anyone but duly authorized investigators or Treasury Department officials to do so. Wire transfers, bank records and other such materials are not public at best and usually confidential for obvious reasons.

So how did they fall into the hands of Michael Avenatti?

Lawyers for Trump's attorney, Michael Cohen, said in court documents this week they have no reason to believe Avenatti has the bank records lawfully.

So are people inside the federal government slipping them to him? Who and why? What else does he have?

[I]f Avenatti is shown to be laundering confidential information from people in the government that could wind up helping Cohen in the medium term. . . .

Another important player, former Trump campaign chairman Paul Manafort, already has complained to a federal judge about what he called inappropriate leaks about his case from within the Justice Department. If Cohen could show that U.S. government officials had been slipping material to Avenatti to damage Cohen in the public eye, that could complicate any case that prosecutors eventually try to make against him.
Avenatti has also faced criticism over his lawyering skills.
Attorney Marc J. Randazza has pointed out the "dumb" defamation suit against Trump that Avenatti filed based on an April 18 tweet by the president: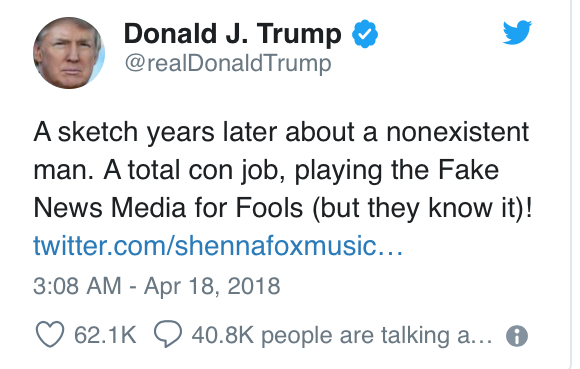 "Stormy's claim is based on Trump's exercise of his free speech rights," Randazza wrote. "Trump was writing on a public forum about a highly publicized dispute. The dispute would have been a matter of public concern anyhow, but Clifford and her attorney have fluffed the public relations value of this case like nobody has fluffed anything since the invention of Viagra (which made the fluffery sciences as a porn career go the way of the buggy whip)."
Avenatti's response was to block Randazza on Twitter.
At The Hill, Thursday, pollster Mark Penn concluded:
Avenatti has been given a free, unfettered media perch on TV to spread his stuff without the networks forcing him to meet any disclosure requirements. Saying that he is Daniels's attorney when someone else entirely is paying for this operation is not true disclosure that allows the viewer to evaluate the source and potential conflicts. He is now being given deference as though he is a journalist interested in protecting unverified sources while he makes headline-grabbing pronouncements. Lawyers need to disclose the source of their evidence.

[ ] If this is all a paid donor strategy to discredit Trump, it is backfiring. The more Avenatti, Daniels and Cohen blot out the Democratic message and the president is seen as making peace with North Korea, the latest polls show the Republicans are surging and Trump's image rising as well.

The more you peel back the onion, the more Cohen and Avenatti seem alike. Both are fixers who bend every rule they can get away with. Fairly or unfairly, Cohen is being put under the microscope and we can rest assured that every payment in or out will be fully scrutinized by law enforcement. But Avenatti can't be given a pass on these issues. Americans are entitled to know just who this guy is, who is writing his checks and whether he legally obtained his information.