Gay Porn Star Francisco Gets Life In Prison for Murdering Sugar Daddy
Gay porn performer David Enrique Meza, 27, was found guilty of murdering his 51-year-old gay lover and sugar daddy, Jake Clyde Merendino, during their vacation in Mexico in May 2015. A federal court sentenced Meza, a.k.a. Francisco and Mario Romo, to life in prison for fatally stabbing the Texas retiree 24 times.
In federal court, U.S. District Judge Jeffrey Miller called the homicide an "inhumane, depraved act." He chose a harsh sentence due to Meza's "heinous" actions.
For pay
In 2013, Meza met Merendino through an online personal ad that listed Meza as straight but mentioned that he did "gay things" for money. Merendino paid Meza $100 to come to his hotel room and the two began a long-distance relationship.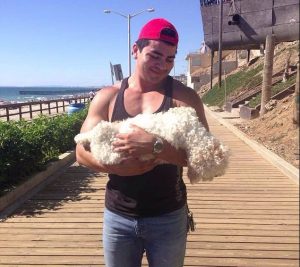 Meza resided in San Diego and Merendino lived in Texas.  Meza would say "I love you" in his e-mails and Merendino provided Meza with lavish gifts such as a sports car worth $45,000 and nearly $20,000 in cash.
But unbeknownst to Merendino, Meza had a long-term girlfriend who had become pregnant and engaged to Meza.
In May, 2015, Merendino moved to Rosarita, a beachside town about 30 miles south of San Diego, with the hope that Meza would become his live-in boyfriend. However Meza's secret girlfriend was due to deliver in June, so Meza hatched a plan.
Prosecutors say that Merendino finalized the condo deal and named David Enrique Meza as the sole beneficiary of both his $3 million Texas estate and his $273,000 oceanfront condominium.
The two then travelled to Mexico on May 1 and, after a brief celebration that night, Meza rode his motorcycle back to the U.S.. Meza then contacted Merendino around 1 a.m. to ask for help after his bike had allegedly broken down.
Around 3 a.m., someone found Merendino's body thrown off a cliff after being stabbed 24 times and having his throat slashed.
Later that day, Meza and his pregnant fiancée, Taylor Langston, re-entered the U.S. separately and later returned to Mexico to recover Meza's belongings from Merendino's hotel room.  11 days later, Meza drained Merendino's bank account.
Source: Hornetapp