Who Here is Shocked That Stormy Daniels Has Thrown Michael Avenatti Under The Bus?
Under the Bus: According to a new report in The Daily Beast, Stormy Daniels says attorney Michael Avenatti sued President Trump for Defamation against her wishes; that he refused to give her information about how her crowdfunding money was being spent; and that he launched a second crowdfund without her knowledge.
It's just about time to stick a fork in this douchebag, because he's done.
Two weeks to the day after he was arrested for domestic violence in Los Angeles, Stormy Daniels penned a statement to The Daily Beast. Here are the first two paragraphs (the third is the aging porn star patting herself for being a #resistance champion):
For months I've asked Michael Avenatti to give me accounting information about the fund my supporters so generously donated to for my safety and legal defense. He has repeatedly ignored those requests. Days ago I demanded again, repeatedly, that he tell me how the money was being spent and how much was left. Instead of answering me, without my permission or even my knowledge Michael launched another crowdfunding campaign to raise money on my behalf. I learned about it on Twitter.

I haven't decided yet what to do about legal representation moving forward. Michael has been a great advocate in many ways. I'm tremendously grateful to him for aggressively representing me in my fight to regain my voice. But in other ways Michael has not treated me with the respect and deference an attorney should show to a client. He has spoken on my behalf without my approval. He filed a defamation case against Donald Trump against my wishes. He repeatedly refused to tell me how my legal defense fund was being spent. Now he has launched a new crowdfunding campaign using my face and name without my permission and attributing words to me that I never wrote or said. I'm deeply grateful to my supporters and they deserve to know their money is being spent responsibly. I don't want to hurt Michael, but it's time to set the record straight. The truth has always been my greatest ally.
"Creepy Porn Lawyer" Avenatti's response:
I am and have always been Stormy's biggest champion. I have personally sacrificed an enormous amount of money, time and energy toward assisting her because I believe in her. I have always been an open book with Stormy as to all aspects of her cases and she knows that. The retention agreement Stormy signed back in February provided that she would pay me $100.00 and that any and all other monies raised via a legal fund would go toward my legal fees and costs. Instead, the vast majority of the money raised has gone toward her security expenses and similar other expenses. The most recent campaign was simply a refresh of the prior campaign, designed to help defray some of Stormy's expenses.
The Daily Beast (correctly) notes that Avenatti could face serious problems if he sued Trump against Daniels' wishes. Stephen Gillers, a New York University Law School professor and expert on legal ethics, is quoted:
"If he filed the case with her name when it was clear that she told him not to, then he could be sued for that," Gillers said. "He could be sued for malpractice. If true, she has a malpractice case against him. I emphasize if true. And if true, he would be subject to discipline but not as serious as disbarment."
Back in April, when the ill-fated defamation case was filed, industry attorney Marc Randazza tweeted Avenatti, in Marc's inimitable style: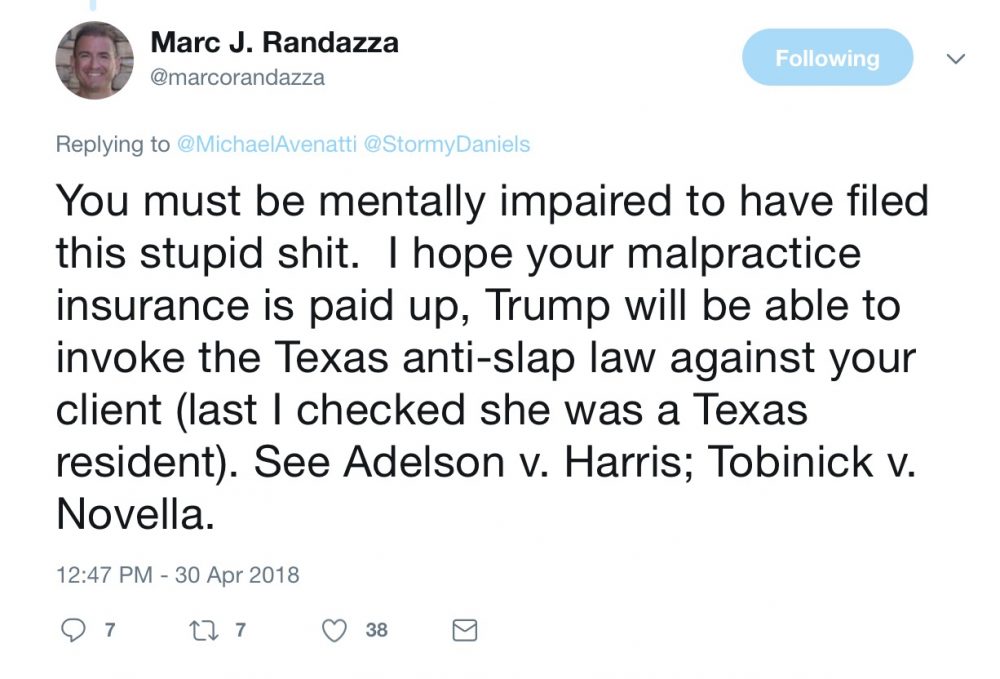 But even Randazza has trouble believing Michael 'The Horse Whisperer' Avenatti could have been so stupid as to have filed the action against Daniels; wishes: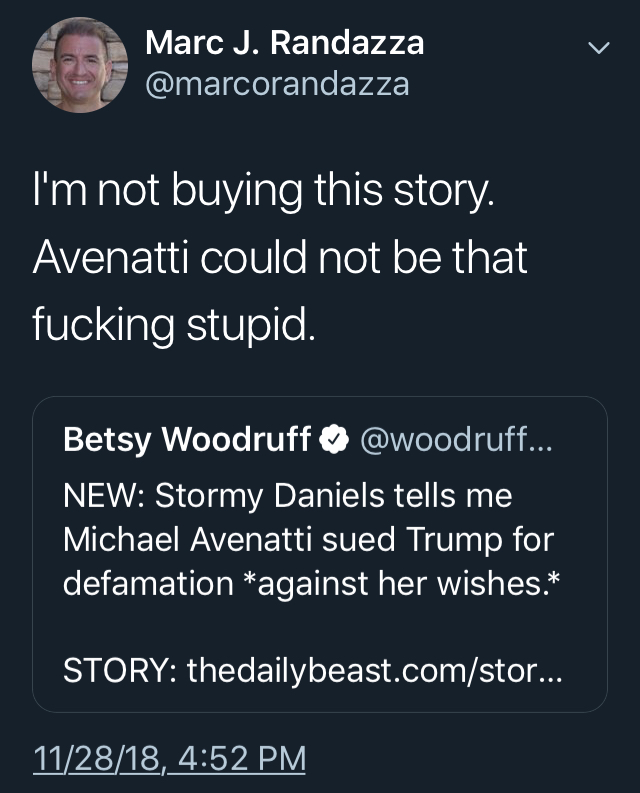 Could Avenatti be that stupid?
Consider the fact that he has millions of dollars in judgments against him, has major tax problems, is on his second divorce, and was recently evicted from his offices for nonpayment of rent.
Then there's this quote from Stormy: "I haven't decided yet what to do about legal representation moving forward."
Huh? The guy files a case without your permission — a really stupid case, which he promptly loses — and won't give you an accounting of how a shit ton of money is being spent, and you're still not sure what to do about legal representation moving forward? WTF?
Theres an old saying: shit shits on shit.
Only Michael Fucking Avenatti and the mind-numbed anti-Trumpers weren't smart enough to see this coming.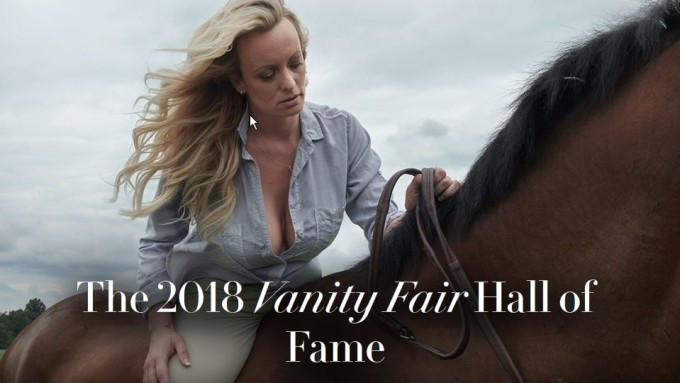 This is a woman who reneged on a $130,000 nondisclosure agreement payout in order to increase her public profile and earning potential — and Avenatti helped her do it. It's almost comical.
It will be interesting to see how this all plays out.
I never felt more satisfied or optimistic than when I rode the river in my youth.