Don't let Twitter censor your timeline
Twitter has been making some major changes. No, they aren't "shadowbanning" porn stars as some will have you believe.  What they are doing is marking each and every one of their accounts as potentially sensitive and that means you won't be able to see their tweets or even their accounts appear in the Twitter search results.
Don't let twitter censor you!
If you are an adult and don't want Twitter to censor what you see or search for on Twitter you need to make sure and turn Safe Search off.
To do this go to twitter.com/settings/safety and scroll all the way down to where it says SAFETY. Now uncheck the "Hide sensitive content" box.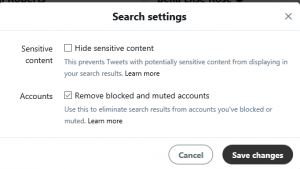 Click save and you are good to go!
If you want to see what your favorite porn stars are seeing and saying, then you need to make sure and turn safe search off. It's really the only way to ensure these tweets aren't filtered out.
Almost all porn stars and adult-related twitter accounts have been placed under a "sensitive" tag and this means unless you turn safe search off, saying you want to see this sensitive content, you won't.
Once you turn Twitter's safe search feature off, you will finally be free to see all the fun naughty bits! I mean that is after all what Twitter is for, right?
Hello, my name is Kelli Roberts. I am a published author, AVN nominated producer, and webmaster who has worked in the adult industry since August of 1996.