Study: No evidence that porn 'tolerance' leads to changes in sexual arousal
A new study from Europe finds no evidence of destructive 'escalation' of use of pornographic content (tolerance) over time.
Also, those who consume non-mainstream content still respond (reported sexual arousal) to the usual stuff.
A recently published study, entitled Sexual Arousal and Sexually Explicit Media (SEM): Comparing Patterns of Sexual Arousal to SEM and Sexual Self-Evaluations and Satisfaction Across Gender and Sexual Orientation, by Gert Martin Hald, PhD, Aleksandar Stulhofer, PhD, and Theis Lange, PhD. has revealed some findings about the theory of porn 'tolerance' which will no doubt displease the anti-porn lobby.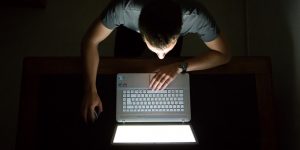 The study's stated aims were, (i) To investigate whether sexual arousal to non-mainstream vs mainstream SEM contents could be categorized across gender and sexual orientation, (ii) to compare levels of SEM-induced sexual arousal, sexual satisfaction, and self-evaluated sexual interests and fantasies between non-mainstream and mainstream SEM groups, and (iii) to explore the validity and predictive accuracy of the Non-Mainstream Pornography Arousal Scale (NPAS).
The researchers concluded that "in classified non-mainstream SEM groups, patterns of sexual arousal might be less fixated and category specific than previously assumed. Further, these groups are not more judgmental of their SEM-related sexual arousal patterns than groups characterized by patterns of sexual arousal to more mainstream SEM content. Moreover, accurate identification of non-mainstream SEM group membership is generally possible across gender and sexual orientation using the NPAS."
In other words, the theory that porn viewers build up "tolerance" to what they watch, creating changes in their sexual arousal that leads them to seek out more and more extreme porn, or commit sexual crimes, is empirically false.
Which completely undercuts the cuckoo theory of "porn addiction" tossed around by anti-porn nuts.
Kicks
In January 1989, convicted serial rapist and killer Ted Bundy (also a male feminist all-star who volunteered at a rape crisis center), told anti-porn zealot Dr. James Dobson that his pornography consumption, and his related, ballooning need for newer, bigger sexual thrills, had fueled his rage-filled sprees.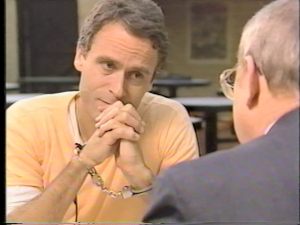 Ted: "[T]he issue is how this kind of literature contributed and helped mold and shape the kinds of violent behavior.
JCD: It fueled your fantasies.
Ted: In the beginning, it fuels this kind of thought process. Then, at a certain time, it is instrumental in crystallizing it, making it into something that is almost a separate entity inside.
JCD: You had gone about as far as you could go in your own fantasy life, with printed material, photos, videos, etc., and then there was the urge to take that step over to a physical event. Ted: Once you become addicted to it, and I look at this as a kind of addiction, you look for more potent, more explicit, more graphic kinds of material. Like an addiction, you keep craving something which is harder and gives you a greater sense of excitement, until you reach the point where the pornography only goes so far – that jumping off point where you begin to think maybe actually doing it will give you that which is just beyond reading about it and looking at it.
JCD: How long did you stay at that point before you actually assaulted someone?
Ted: A couple of years. I was dealing with very strong inhibitions against criminal and violent behavior. That had been conditioned and bred into me from my neighborhood, environment, church, and schools.
I knew it was wrong to think about it, and certainly, to do it was wrong. I was on the edge, and the last vestiges of restraint were being tested constantly, and assailed through the kind of fantasy life that was fueled, largely, by pornography.
JCD: Do you remember what pushed you over that edge? Do you remember the decision to "go for it"? Do you remember where you decided to throw caution to the wind?
Ted: It's a very difficult thing to describe – the sensation of reaching that point where I knew I couldn't control it anymore. The barriers I had learned as a child were not enough to hold me back from seeking out and harming somebody.
JCD: Would it be accurate to call that a sexual frenzy?
Ted: That's one way to describe it – a compulsion, a building up of this destructive energy. Another fact I haven't mentioned is the use of alcohol. In conjunction with my exposure to pornography, alcohol reduced my inhibitions and pornography eroded them further.
Now, if tolerance to porn is not an actual "thing", then we must suppose that this psychotic serial killer was trying to mislead old man Dobson! Can you imagine him doing something like that?