Once again, FOSTA proves a scam: Backpage.com seized by U.S. Justice Department
If current law is adequate to seize website Backpage.com, why the hell do we need the grievous overreach of FOSTA / SESTA?
WASHINGTON, D.C.  – U.S. law enforcement agencies have seized the sex marketplace website Backpage.com as part of an enforcement action by the Federal Bureau of Investigation, according to a posting on the site, Friday.
The posting said the U.S. Justice Department would provide more information at 6 p.m. EDT. It said U.S. attorneys in Arizona and California, as well as the Justice Department's section on child exploitation and obscenity and the California and Texas attorneys general had supported the work in shutting down the website.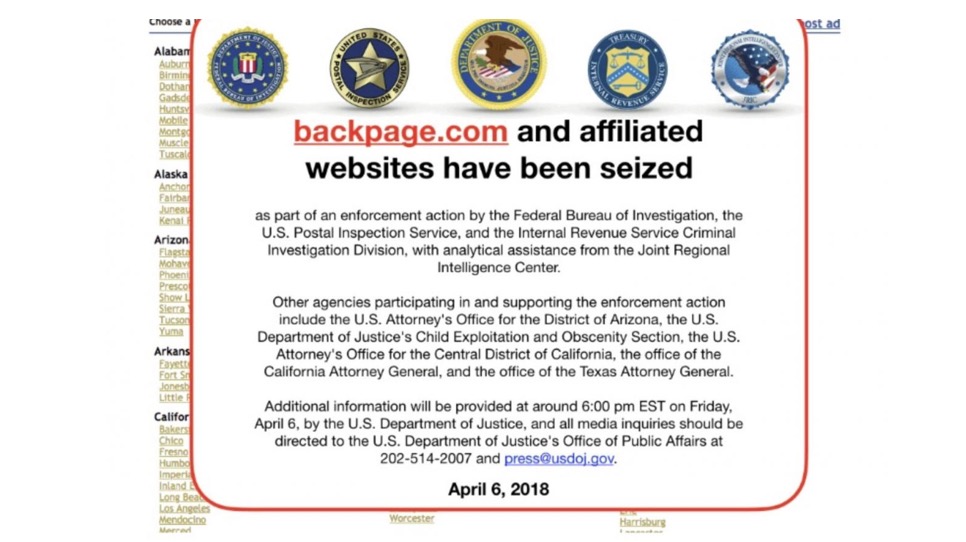 Lawmakers and enforcement officials have been working to crack down on the site, the second largest classified ad service in the country after Craigslist that is used primarily to sell sex.
The U.S. Senate passed legislation last month (FOSTA – SESTA) making it easier for state prosecutors and sex-trafficking victims to sue social media networks, advertisers and others that fail to keep sex trafficking and other exploitative materials off their platforms.
Thee legislation, however, was passed over the objections of sex workers and trafficking victims.
The Department of Justice also opposed FOSTA – SESTA, declaring that the bill is unconstitutional and would actually make some prosecutions more difficult.
FOSTA – SESTA was sent to President Trump for his signature this week, but he has not yet acted on it.
The Supreme Court in January 2017 refused to consider reviving a lawsuit against backpage.com filed by three young women alleging the site facilitated their forced prostitution. But the site has since then faced a slew of other lawsuits alleging child sex trafficking.
I never felt more satisfied or optimistic than when I rode the river in my youth.