Dennis Hof, Nevada Brothel Owner and Political Candidate, Dead at 72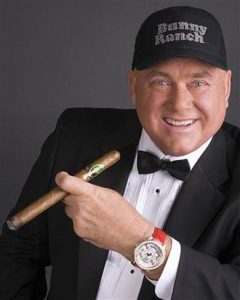 Nevada brothel owner, TV star, showman, and candidate for the Nevada state legislature, Dennis Hof, has died, according to his campaign manager.
Nye County Commissioner John Koenig confirmed the news Tuesday at a commission meeting, according to Nye County spokesman Arnold Knightly.
Hof "went to sleep last night and didn't wake up," Koenig said, according to Knightly, who added that the Nye County Sheriff is investigating.
Hof's campaign manager Chuck Muth confirmed the sad news.
I just confirmed with Nye County sheriff's deputy that Dennis Hof passed away this morning. No other details at this point. I'm heading out to Love Ranch Vegas now. Official statement will come once I learn more.

— Chuck Muth (@ChuckMuth) October 16, 2018
"I'm on my way up there now to find out exactly what the hell happened," Muth said. "I got a call from his assistant, in tears saying Dennis died and I need you to come out here immediately, I can't deal with this myself.
"We had a wonderful event last night. He was having the time of his life last night. Grover Norquist was there," Muth said. "Ron Jeremy was there. He was given a rescue dog as a birthday present. He was having the time of his life."
Muth said there was no indication Hof wasn't feeling well last night.
According to the Daily Mail, Jeremy went to wake up Hof about 11 a.m. Tuesday and found him unresponsive.
Hof was 72 years old.
READ Dennis Hof political enemies seek to put NV brothels out of business via referendum

Empire
Hof was known nationwide for his role in the HBO series "Cathouse," which documented the lives of the workers in his half-a-dozen Nevada brothels.
His brothel empire started with his purchase of the Moonlite Bunny Ranch in 1992. He was well-known for his proposing that the brothels be taxed by the state. Nye County officials had recently closed the Love Ranch South brothel which was reopened after a win in court.
The brothel owner was recently ran a successful campaign in the primary election for Assembly District 36. He was facing Democrat Lisa Romanov in the November general election.
Since Nevada brothels are not legally permitted to advertise, Hof became a master of guerrilla advertising, andwas a media celebrity for years.
He made headlines with Bill Clinton when several of his brothel employees had their picture taken with the former president at a charity event. He posted bail for presumed Liberace lover Jess Marlow, aka Scott Thorson, before Marlow was sentenced for burglary and identity theft.
And he promoted a "Get My Grandpa Laid" contest on the "Howard Stern Show."
In 2015, he published an acclaimed autobiography, "The Art of the Pimp".
Hof's campaign website says his parents were immigrants to America, settling in Chicago and moving to Arizona in 1945. Hof was born on Oct. 14, 1945, according to the site.
The political ramifications of Hof's death remain unclear.
At times, the republican candidate called himself the "Trump of Pahrump". Hof's political platform included overturning the $1.5 billion tax plan passed by the legislature in June, as well as upgrading Nevada's public schools so they're no longer ranked worst in the nation, as they have for the past three years.
His name will still appear on general election ballots in November, though signs will be placed at all Assembly District 36 polling places to notify voters of Hof's death.