NV brothel owner Dennis Hof ousts incumbent James Oscarson in state Assembly primary
Nevada brothel owner Dennis Hof beat incumbent Assembly member James Oscarson and a third candidate in the GOP primary for a Southern Nevada Assembly seat by a landslide.
Hof will face Democrat Lesia Romanov in November.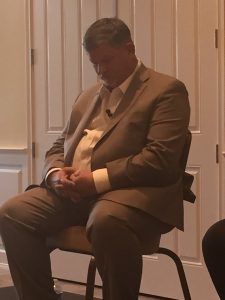 The Los Angeles Times reports that Hof "won handily Tuesday night, defeating Oscarson and getting a concession from the incumbent via text message at 11:21 p.m."
Hof attacked Oscarson with billboards and online ads that called him a "serial tax hiker" and portrayed him in unflattering cartoon images. One likened Oscarson to a monkey.
Oscarson didn't take it lying down, however. His campaign tried to impugn Hof's moral character by pointing out that he was the author of "The Art of the Pimp."
Hof's bid for the seat drew national attention due to his outsized reality television persona, culled from an HBO series that took place in one of several brothels he operates in Nye and Lyon counties.

Laura Billman, Oscarson's spokeswoman, said they felt they had been running behind the entire race. When the unofficial Nye County numbers came in — 2,372 votes for Hof and 1,465 for Oscarson — Billman said they knew the numbers couldn't be made up in Clark and Lincoln counties.
Hof's legal brothels are threatened under proposals to ban such businesses in two of the state's seven counties where they are legally operating.
Hof has said the effort is a political attack.
James Oscarson, a hospital executive, previously faced off with Hof in 2016 when the latter ran for the seat as a Libertarian. Oscarson won with 60 percent of the vote.
I never felt more satisfied or optimistic than when I rode the river in my youth.