'Will you stand naked with Mack and 5 other committed naked women?' NXIVM's Raniere texts released
In the government's opposition to NXIVM cult leader Keith Raniere's bail motion, a selection of his text messages reveal a side of Raniere entirely — and predictably —  absent from his bail motion, reports ArtVoice.
In his bail motion, Raniere's attorneys paint a picture of a loving papa, a caring boyfriend who makes sure to be on hand at his baby mama's birthday, and a sensitive guy who mopes about the house of his significant other on the anniversary of her death.
However, in the government's filing this totally great guy is shown using explicit and disturbing language about his sexual desires for his slaves.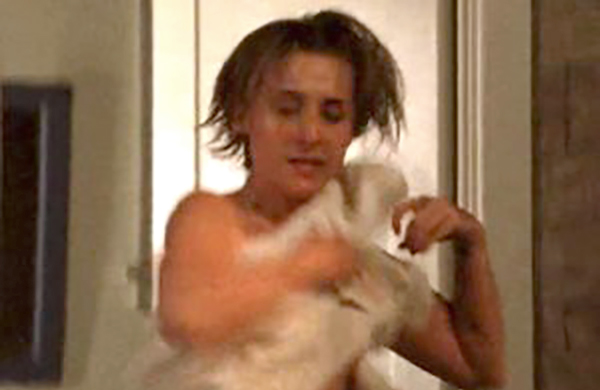 October 1, 2015, Raniere exchanged the following messages with a sexual partner who was a "first-line" DOS slave.
RANIERE: I think it would be good for you to own a fuck toy slave for me, that you could groom, and use as a tool, to pleasure me…
[DOS Slave]: huh?
[DOS Slave]: not disagreeing, just don't understand
RANIERE: But your [sic] my wife…she isn't…just a tool for you to use for me…
[DOS Slave]: a person?
RANIERE: Get a slave… you're her master…
On October 9, 2015,
RANIERE: Without going into detail. It caused there to be other slaves, all who want to be branded with my monogram plus a number [on the brand] … your number is reserved… it is number 1.  It is now a secret growing organization. I don't know well some of the people involved but I command them ultimately. They are not who you might think. . . I think there are 10 or more in the current Jness 2 track…and others outside of it.
[DOS Slave]: Does that mean that they know about each other?
RANIERE: No.
* * *
[DOS Slave]: Are these slaves for you or for us? [good question]
RANIERE: There are two types. Both types are for us. One type is in the program: you are their Master I am their Grand Master . . . the other type are very select ones you use to heal us: likely being also of the first type…
[DOS Slave]: Ok. I'm asking because these persons will be in our life forever…. But I was not involved in the process of choosing who
[DOS Slave]: I'm afraid that I will not be comfortable with the others
RANIERE: You choose your slaves…
[DOS Slave]: What about the 7.
[DOS Slave]: ?
[DOS Slave]: Allison [Mack] said these 7 were forever. She and the others will be forever in my life…
RANIERE: They are first line to me but if any suit the purpose I obviously have access…
I never felt more satisfied or optimistic than when I rode the river in my youth.