War Machine Gets 36 Years to Life!!!!!!!!!
It's official, War Machine aka Jonathan Koppenhaver was finally sentenced today, after first trying to request a re-trial, claiming none of what happened was his fault since he was unconscious during the attack and acting purely on instinct.
The prosecutor was quick to point out that there was no way he was unconscious. This was behavior that went on for years.
The judge denied this motion by war machine's defense team and the sentencing hearing continued.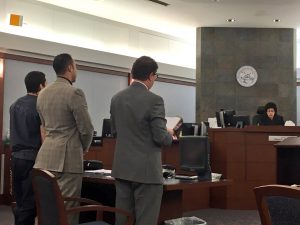 As we previously reported War Machine was convicted of 29 of the 34 charges against him.
In the end, the judge handed him an aggregate sentence of life with the possibility of parole after 36 years. This means War Machine won't be eligible for parole until he is 71 years old.
The trial itself was interesting. The lawyer argued everything you can imagine to explain away why Jonathan Koppenhaver aka War Machine did what he did.
His parents were drug addicts.
His parents were abusive, that's why he's abusive. He couldn't break the cycle.
He couldn't finish college and has because his parents used the money for cocaine.
He was on the right track to be a Navy Seal but he couldn't because he didn't have tuition. **, In reality, he was kicked out of the Citadel for poor behavior, not because of lack of ability to pay.
His mom was a drunk and that was "hard to come back from that".
His parents got a divorce.
He was neglected as a child "that was really had to come back from". (He used that line a lot)
He never learned to deal with his rage because he never had anyone except his school guidance counselor.
His father – who was his idol, died in his arms. ** This story seems to be true. When he was 13 he gave his father CPR and tried to save him. It didn't work, War Machine found out the next day his father had died.
He was on steroids and adderall causing loss of control.
The lawyer gave all this "pity me" and it "wasn't his fault" bullshit and tried to argue to help him reduce his sentence by saying things …
He's a converted "true" Christian now.
He's suicidal and tried to kill himself in jail.
He has brain damage so it wasn't his fault.
He never beat up any kids so that should count right? I mean hey, sure he beat women, but no kids. (Yes the lawyer really used this argument)
He's suffering from manic depression (today it is called bipolar).
An interesting part was when the lawyer tried to justify how his client went off on constant tyrates on Twitter, including a misogynistic rant against the judge of his last case.
The lawyer also kept going back to "God" and how War Machine really is a good boy now, a devoted "real" Christian.
The only argument or story the judge seemed to give any serious attention to was the traumatic brain injury story. She didn't seem to fully accept it as the only excuse but did seem to agree to take into account.
Several times throughout the hearing they kept referring to Christy Mack's true and genuine fear that when War Machine gets out of jail he is going to kill her. "At least I have 16 years to live", is the reference that kept getting brought up.
Without a doubt, an appeal will be filed. That's been clear since March but for now, at least War Machine is in jail and has been sentenced to the rest of his life in jail or at the very least the next 36 years before he can even be considered for parole.
Aggregate sentence of life with the possibility of parole after 36 years.
This means War Machine won't be eligible for parole until he is 71 years old.
Count 1 misdemeanor offense battery six months in jail.
Count 4 60 months
Count 5 72 months
Count 6 48 months
Count 6 Life with parole
Count 9 life with parole after 10 years
Count 10 life
Count 11 250 days
Count 12 Life with parole after 10 years
Count 14 Life with parole after count 15 —
Count 15 15 years consecutive term 120 months
Count 16 60 months
Count 17 60 months
Count 18 60 months
Count 19 60 months
Count 20 60 months
Count 21 120 months
Count 22 120 months
Count 23 120 months
Count 25 Life with parole after 15 years
Count 27 60 months
Count 28 60 months
Count 29 60 months
Count 30 6 months
Count 31 60 months
Count 31 6 months
Count 34 48 months