PHOTOS: Injuries of Avenatti's lover who claims he hit her, dragged her across the floor in her underwear and called her an 'ungrateful [email protected] bitch'
Michael Avenatti was arrested on domestic violence allegations last week 
His accuser was revealed as Mareli Miniutti, an Estonian actress in her 20s 
Photos submitted to the court reveal her injuries after Avenatti allegedly hit her in the face with pillows, and dragged her across the floor by her arm in her underwear
Miniutti says the altercation left her with 'scratches' on her leg and 'red marks'
She also claimed Avenatti was violent with her during another altercation at their home in February of this year  
Photos submitted to the court by Michael Avenatti's alleged victim reveal her injuries after he allegedly hit her in the face with pillows, dragged her across the floor of his apartment in her underwear, and called her an 'ungrateful fucking bitch.'
Avenatti, who resembles Professor Xavier with Down Syndrome and represents aging porn star Stormy Daniels, was booked for felony domestic assault after he allegedly struck girlfriend Mareli Miniutti last Tuesday.
In court documents submitted on Monday first obtained by The Blast, the Estonian actress, who has been dating the lawyer since last October, claims he assaulted her after an argument about money turned physical.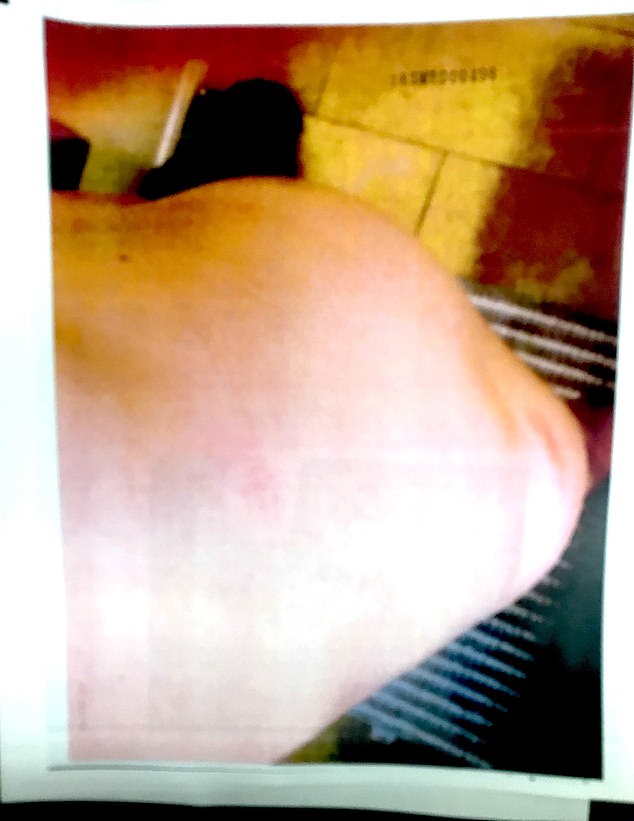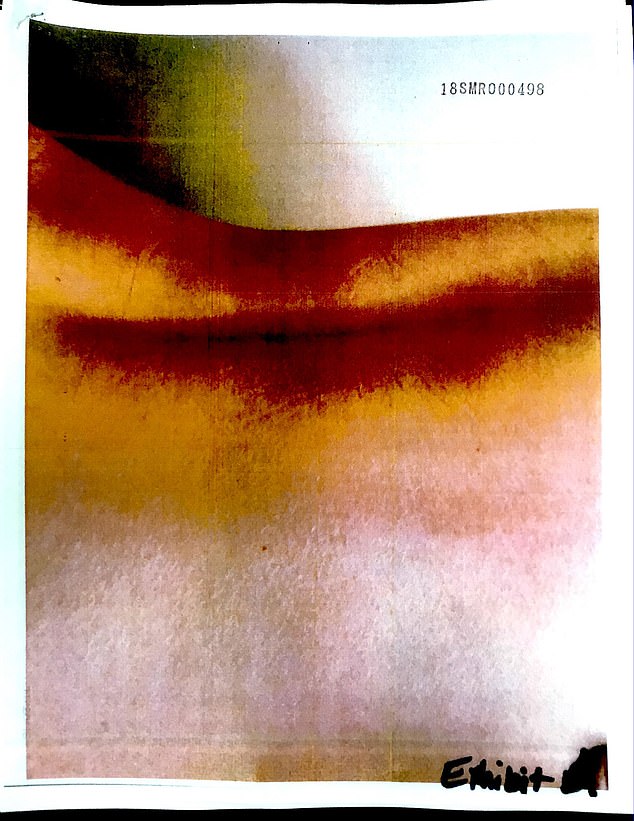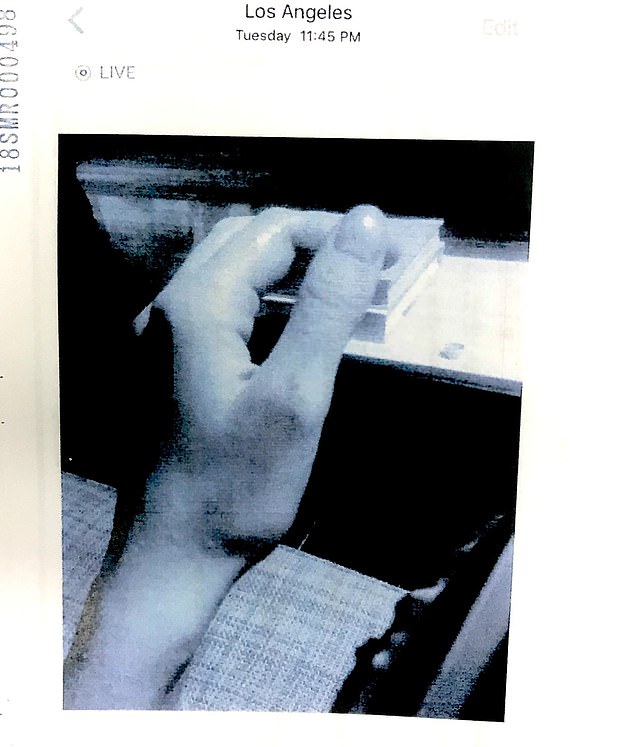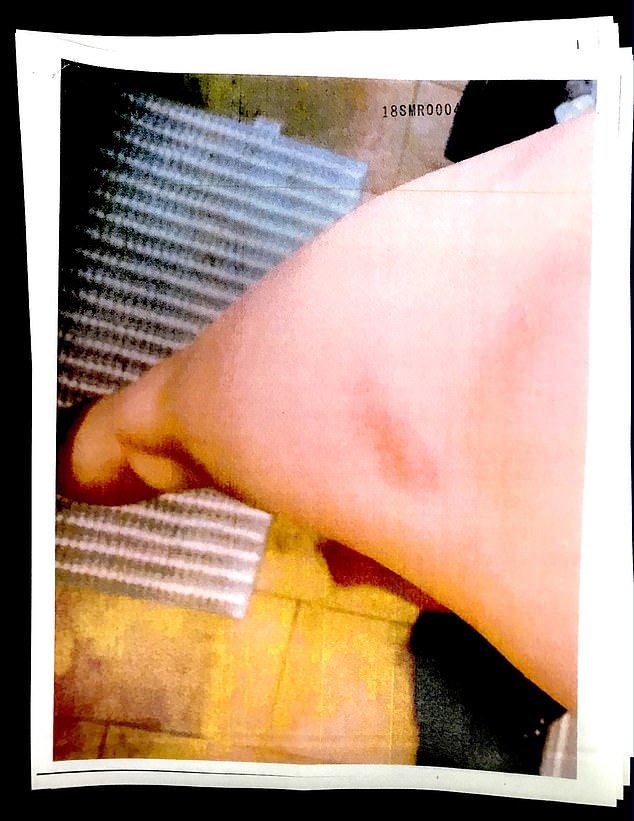 On Tuesday Miniutti was granted a temporary restraining order by an L.A. County Superior Court judge, according to the Hollywood business site The Wrap.
Altercations
Miniutti says the altercation left her with scratches on the side of her leg and 'red marks' on her left side.
She also claims the November 13 incident was not the first time Avenatti, 47, has been violent with her.
According to the three-page declaration, the two had been arguing in the master bedroom that evening when Avenatti began to 'berate' her and called her an 'ungrateful f***ing b***h.'
Miniutti says she then exited the room and went to the guest room to sleep alone, but he eventually followed her, 'calling her names' before forcefully hitting her in the face with pillows.
She claims Avenatti said, 'Do not disrespect me. You don't get to sleep in my house tonight,' before reaching for her wrist in an attempt to pull her out of bed.
Avenatti, however, slipped and lost his grip and she used the opportunity to send texts to a friend, according the documents.
'After a few moments, [he] yelled at me, and grabbed the phone out of my hand and screamed, "this is my phone!" and put it in his pocket.'
Miniutti says Avenatti remained close to her 'at all times' and she became 'afraid' for her safety and screamed for help towards a window.
That's when Avenatti allegedly tried to pull her out of bed again, this time succeeding and dragging her on the floor of the apartment and out to the hallway while she was only in her underwear and a t-shirt.
Miniutti tried to get help by ringing a neighbor's doorbell but Avenatti allegedly pulled back her inside and blocked the door with his body to prevent her from leaving.
'I screamed and asked [him] to return my phone. [He] refused to return my phone,' the declaration states.
She then ran back to the guest bedroom to put pants on, but he quickly followed, giving her no time to put on shoes, she claims.
Miniutti eventually managed to bypass Avenatti, exited the apartment, and made a run for the elevator as he chased after her.
While the two were in the elevator, he allegedly began to beg, 'Don't do this Mareli, don't involve them.'
Avenatti finally returned her phone when she approached front desk personnel, who called security.
Miniutti's account, however, contradicted details in an initial report on Avenatti's arrest by the gossip site TMZ, which claimed that the victim's face was "swollen and bruised" from the incident.
Not the first time
Miniutti, who had been living with Avenatti since January, also alleges that he struck her during another incident in February this year.
'At that time, I was living with [Avenatti] in a different apartment in the same building. [He] had been drinking, and he became angry at me. [He] pushed me out of the apartment into the public hallway, where I hit my head against a door across the hallway,' she claims.
Avenatti, she says, then threw her shoes at her, hitting her in the leg.
She claims Avenatti has 'a history of being very verbally abusive and financially controlling' towards her and has 'vehemently opposed' her wish to earn a living outside of Hollywood.
'[He] has made promises to "take care of me" financially and sometimes fails to follow through,' she says in papers.