Meet Michelle Shnaidman of Bellesa. The bitch who is stealing your content in the name of feminism!
Today I want to talk about Michelle Shnaidman, a woman from Montreal.
She proudly will tell anyone who will listen that her website is about "feminist porn". But let there be no confusion, she makes her living by stealing from other people. She's a low life thief.
The crazy part is, this woman, Michelle Shnaidman of Bellesa is all over the news talking about what a great thing she is doing, with her feminist porn.
"Bellesa is the "Unapologetically Bold" Company Making Inroads in the Adult Entertainment Industry – The Bull & Bear"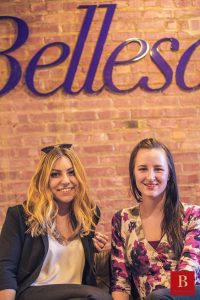 Let me tell you what I found when I visited their little website.  The first thing that caught my attention was a video that looked familiar that they entitled "Sharing Boyfriend with Best Friend".
Upon closer examination, I found it was from EroticaX.com. It wasn't a clip or a small preview like we affiliates are given, nor was it the trailer for the scene. Nope, it was the full-length, 45 minutes and 45-second scene.
The scene is called SOMETHING THERE from EroticaX.com and stars August Ames and Lucas Frost.

According to the Bellesa website, this scene has been viewed 38,704 times since it was posted on September 15, 2017 – that's only 4 days ago.
So my first thought is, you know, maybe I am wrong. Maybe they have some sort of special promotional deal with EroticaX.com and if you click the Watch in HD or the Download link it will take you to their website, right?
Nope.
Those links take you to SpankBang.com where you can now illegally watch the HD version of the same scene.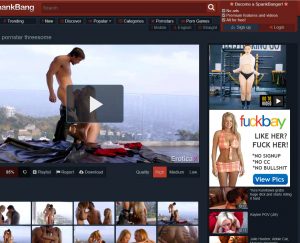 Let there be no confusion, Bellesa.co is an illegal tube site.
This is how Michelle Shnaidman tries to sell her version of an illegal tube site –  "I've been trying to sell an idea and I'm telling them, 'Yeah this is about empowerment and the movement,' and all people really hear is 'Okay it's a porn site,'" Schnaidman continued. "But everyone's come around, I think. Even my grandmother!"
But no matter how many pretty words she uses, it doesn't change the fact that what Michelle Shnaidman is doing is illegal and wrong on so many ethical levels. She's stealing from people and profiting from that theft.
This isn't about feminine sexuality, it's about theft, pure and simple. It's about one person, who happens to be a female going out, stealing something and then selling it to other people.
Michelle Shnaidman is a thief, someone who steals something.
Every video on this website appears to have been stolen. HEre is one from SexArt.com. Again not just a preview, it's the entire scene, 18 minutes and 32 seconds.

Bellesa claims this video is uploaded by users from her site. But in reality, this thing seems to run off of a tube scraping software where it's a feed from other tube sites, mostly from what I can find, SpankBang.
I mean let's be real, how many females do you know are illegally downloading full scenes from their favorite porn websites, that they pay to be members of, then running to a tube site like Bellesa.co to share it with their friends?
Sorry but that's not typical female before and even if a few do it, you won't find thousands who do. It's not a-typical female behavior.
Here is a scene Bellesa is showing which they call Getting Rid of Pre-Date Nerves. In reality, it's a scene from the DVD Girls Kissing Girls volume 17 from Sweetheart Video.
This scene has been viewing on the Bellesa website 22,2554 times.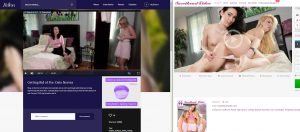 Nate Glass said something so perfect on the Ethical.Porn website that I had to share it with you.
As the founder and operator of the most trusted anti-piracy company servicing the adult industry, I feel compelled to issue a statement on who Bellesa.co is and what their site is and isn't.
First off, Bellesa.co is essentially a piracy curator. This site subsists, if not entirely, off of pirated videos. Those videos have been uploaded to other piracy-based tube sites, and then a person or persons at Bellesa.co curates them into the single biggest piracy site focused entirely on female-centric videos. This site is absolutely no more ethical than The Pirate Bay or any number of piracy sites designed to exploit producers and performers for financial gain. This site puts ZERO DOLLARS into the pockets of female producers or performers. This site only perpetuates the financial exploitation of female producers and performers.
While the site purports to be ran by a woman, I would not be surprised to find out this is a male-run venture using females as props to dupe consumers with their PR tricks. If this woman — Michelle Shnaidman — is really the founder then she is either willfully ignorant of the exploitation she is engaging in, or she is completely okay with exploiting female producers and performers for her own financial gain. Either way, this site is doing nothing to help female producers or performers and is no better than any of the sites Michelle Shnaidman claims alienated women driving her to start Bellesa.co.
As a company who profits by stealing from others, I shouldn't be surprised that they also don't care about child porn. This statement is taken directly from the Bellesa website.
"As a platform that displays video content hosted on third party websites, we instruct our users to only upload content that features performers who are at least 18 years of age. While we do our very best to ensure that uploaders comply with these terms of service, due to the overwhelming volume of content uploaded, we cannot guarantee a rate of compliance of 100%."
It's like saying, oh we may have child porn on our website, or maybe we don't.
[email protected]?!?!?!!?!?!?!?!
Shame on you Michelle Shnaidman.
"Our goal wasn't to dress-up PornHub; it was to undress Pinterest."
No Michelle. Your goal was clear, to profit by stealing from others. Your mother must be so proud of what you have done.
What about your sister Arielle? What do you tell her about what you do for a living? Do you feed her the PR bullshit or do you tell her the truth? Do you tell her that women like me spend thousands of dollars to produce content and you steal it and don't pay me a dime for my hard work?
Do you tell her about all the other women you are stealing from?
How about the porn performers who are no longer making the money they did make to produce the content you steal because the company can't make money selling the scene because people like you are stealing it?
Is that also something you are proud of?
You are a horrible person Michelle Shnaidman. You try and market yourself as a pioneer in the women's movement but in reality, you are hurting us. You don't represent women's rights. You are hurting women. You are stealing from us.
You are a cancer on society. You are a total piece of shit and I shall make it my life goal to expose you to the world, including and most importantly your friends, your family, and your neighbors.
Mark my word, this won't be the last time you hear from me.
Hello, my name is Kelli Roberts. I am a published author, AVN nominated producer, and webmaster who has worked in the adult industry since August of 1996.