A scam artist has created a fake Jynx Maze Instagram account.
While fake social media accounts are nothing new, this particular case has turned far more sinister.
Jynx Maze's real Instagram account is jynxiemazie. The person who created the fake account is jynxiemaziee. See how they just added the one extra e at the end?
This particular person setup a Gmail account "[email protected]" and said to contact them for booking information. As you might have guessed, real Jynx Maze fans are using this email address to contact her thinking it's actually Jynx's email account. It is not.
Jynx Maze does not do bookings on her own as she is under contract with LA Direct Models. They handle all of her bookings.
This fake person is using that email address to lure fans into sending them cash through Western Union. The poor fan thinks it's the real Jynx Maze that they are sending money too. It's not. Jynx Maze does not now nor has she ever lived in Alabama.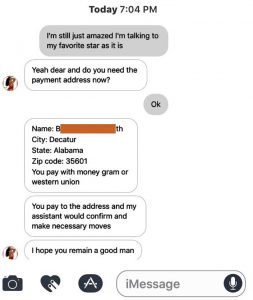 As luck would have it, the fan who got this message got suspicious and found another way to reach out to Jynx Maze and that is how this whole scam was discovered. Turns out this one guy was not the only person being scammed.
Luckily the town of Decatur, Alabama is rather small and the name given (of the person to pickup the cash) was unique enough that we were easily able to find them.
The person who was to pickup the money is a 66-year-old woman. This is one of the photos from her Facebook page where you can tell by her timeline she spends a lot of time online playing Facebook games.
I, however, don't think she is in on this alone. I suspect it is one of perhaps both of her sons, one is 42 and the other 44, who are in on this and perhaps the ones having the day to day conversations with the Jynx Maze fans online. In other words, her son (or sons) pretend to be Jynx Maze online, lure in the suckers, get them to Western Union the money and then the mom picks it up.
This is the photo of her 42-year old who according to his Facebook page is currently unemployed and has been for awhile now.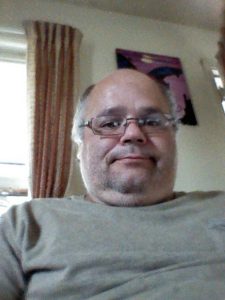 I do not know that her sons are in on it with her – that's for the authorities to decide. I am just speculating based on my own past experience with the fake accounts. It's almost always a man, and very rarely some old women.
I've decided to be nice and not our their real names, deciding instead to let the authorities handle this case, as it is a crime, a rather serious one as it turns out because there were more than a few victims involved.
But I did want to take a moment and warn you all that if a porn star asks you to western union her some money, for the love of all things holy, make sure it's really the porn star you are talking to and not Marvin (as pictured above) or some other guy trying to scam you.
I will update you with the status of this case as more information becomes available from the authorities.
Wire fraud is a serious offense and we look forward to these ass hats getting caught and spending a little time behind bars.