Amateur Producer Sean McAvoy Tried to Traffick Girls from a Shelter to Europe, Asia
Former local sportswriter and amateur porn site operator to be arraigned on human trafficking, child porn charges October 30.
Small time East Coast amateur porn producer 'Sean McAvoy' was charged with trafficking juveniles for sex while producing kiddie porn, authorities announced on August 1.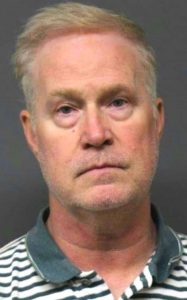 McAvoy, real name Kevin J. Newell, 53, was arrested at his Maywood, New Jersey home after a search of the residence by North Strabane, Pennsylvania police and investigators in Bergen County, N.J. on July 31.
He was charged by authorities in Pennsylvania with human trafficking, unlawful sexual contact with a minor and creating child pornography, among other offenses, Acting Bergen County Prosecutor Dennis Calo said.
He also was charged in New Jersey as a fugitive from justice.
Newell/McAvoy ran the amateur porn site YourNextDoorWhore.com (which is now offline) which was apparently affiliated with backshotproductions.com.
In the 2000s, Newell had been employed by Scholastic.com — the publishing, education and media company known for publishing, selling and distributing books and educational materials for schools, teachers, parents, and children — although it appears his articles have been pulled.
A source tells MikeSouth.com that McAvoy regularly recruited aspiring models from sites like SexyJobs and Craigslist.
"I always new I'd google his name and it would pop up one day," said the source via text message.
Recruiting minors
North Strabane Officer Gary Scherer was contacted in March by a Homeland Security special agent for assistance in a sex trafficking investigation involving an attempt to recruit or entice a minor for "sexual servitude."
North Strabane stands about 20 miles southwest of Pittsburgh.
Scherer, a member of the Internet Crimes Against Children Task Force, was contacted by the special agent because of his experience in undercover investigations in chatrooms.
The federal investigation reportedly started after an employee of a women's shelter provided a tip regarding a possible sex trafficking victim.
Scherer talked to the employee and learned that a person using the name 'Sean McAvoy' was trying to get her involved in "the porn industry." McAvoy, who was later identified as Newell by police, told her he was looking for girls aged 14 to 16 to recruit into illegal porn.
Police said Newell gave her his McAvoy porn stage name and two email addresses, and told her that he operated a porn website. Scherer, in court documents, indicated it was a pay-for-access porn site.
The officer gained access to the website, capturing images of the suspect's face and a tattoo on his lower right leg.
Police said the federal agent also gave Scherer text messages and recorded telephone calls between the witness and Newell/McAvoy.
In April, the witness reportedly told Newell/McAvoy she had found underage girls as he had requested, at a public library.
Scherer assumed a fictitious identity as a 15-year-old girl from the Canonsburg area, and Newell/McAvoy was provided with a phone number and the girl's information, police said. Newell/McAvoy allegedly sent a text message to the person he thought was the 15-year-old girl. He allegedly asked for more information and told the girl she was not too young to be made famous.
Police said he encouraged her to send him naked photographs.
He also allegedly gave her a porn stage name of "Ashley Luv" and said he would take her to Europe and Asia to make her famous in the porn business.
A months-long investigation
Investigators used a federal summons to obtain records Newell/McAvoy's cellphone records. A search warrant was used to obtain records and content of his email accounts.
A months-long investigation by U.S. Homeland Security Investigations (HSI) field office in Pittsburgh and police in North Strabane, Penn. led to the arrest.
Members of the prosecutor's Cyber Crimes Unit and special agents from HSI raided Newell/McAvoy's home and took him into custody.
He remained held in the Bergen County Jail pending extradition, and was extradited to Washington County, Penn. Sunday, Aug 19, after he waived extradition in New Jersey.
According to local paper, The Observer-Reporter:
At his arraignment that afternoon before District Judge Jay Weller, Newell was told by the judge to surrender his passport to police because he allegedly had indicated that he planned to take his alleged victims abroad. Newell told Weller the passport had expired, but he did turn it over. He also told the judge he had worked for the past few years as a salesman and baseball writer.

Newell was arraigned on charges of trafficking in individuals, trafficking in minors, unlawful contact with a minor, soliciting of child pornography and criminal use of a communication facility. He was placed in Washington County jail on $100,000 bond. As part of his bond conditions, if he is released he must stay away from areas where children may congregate, have no contact with children other than his own and have no access to the internet. 
On Sept. 4, Newell waived a preliminary hearing on charges of trafficking in individuals, unlawful contact with minors, pornography and criminal use of a communications facility during an appearance Tuesday before District Judge Jay Weller.  A charge of trafficking in minors was withdrawn by the prosecution, according to a subsequent report by the Observer-Reporter.
Newell's defense attorney, Jacob Wyland, asked Weller to reduce his client's $100,000 bond, telling the judge his client was in constant communication with his mother, brother and wife. Newell has been in Washington County jail since he was extradited to Washington County Aug. 19.

North Strabane Officer Gary Scherer, who filed the charges against Newell, countered he was concerned Newell was a threat to society. The officer told Weller that Newell failed a polygraph done by a Homeland Security special agent at the time of his arrest when he was asked if he had sex with minors. Scherer also verified Newell's passport had expired.

Weller denied the motion to lower the bond.
Newell is scheduled to be formally arraigned on the charges Oct. 30.
h/t: NJ.com / Saddlebrook Daily Voice