'Miss Warmth' Stormy Daniels to host 2019 XBIZ Awards: Alec Helmy again eyes PR gold
Some people never learn.
I'm sure everyone remembers the train wreck that was the 2014 XBIZ Awards in Century City. Host Jenna Jameson, bombed out of her mind, muttering incoherently. The event was likened to an intervention for the ex-Wicked girl.
Jenna was then a known fuck-up and Alec Helmy of XBIZ was warned against hiring her.  "But it's Jenna!", Helmy reckoned. "A porn superstar returns the fold!" Surely it would be a PR goldmine. . .
Blinding himself to reality, Helmy even invited executives from Showtime Networks to the event, hoping to score a cable deal like the one Paul Fishbein wrangled for the AVN Awards years ago.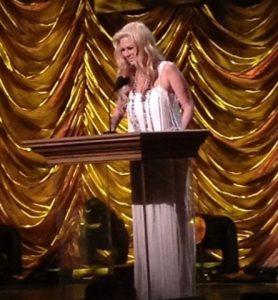 Well, we know how that turned out.
For the 2015 XBIZ Awards, Helmy hired James Deen to host. Deen was then a hot commodity, having benefitted from the press blitz surrounding his mainstream acting debut in "The Canyons". It was also before Stoya's dubious rape allegations surfaced.
On stage at the Awards show, Deen acted strange and even belligerent. He goofed around as if performing the required duties were too much of a hassle.
He'd later write on his blog: "i have a touch of stage fright.  i have no clue why i agreed to host this show but i did.  i had to stand on stage in front of all my peers and colleagues.  it was fucking scary.  really really scary.  also, i couldn't hear anything when i was on stage so i have no idea if my awesome jokes were found to be funny or not."
This year's XBIZ Awards in downtown L.A. were hosted by current Wicked Pictures contract star jessica drake. Any other year she would have made a fine, if hopelessly bland, choice. But she was scheduled to host the event a month after playing a role in a cyberbullying scandal that helped drive a beloved adult performer to end her life.
Calls went out for Helmy to replace her, or for drake to have some class and gracefully step aside (I just spit my drink on my keyboard as I contemplated the likelihood of the latter lol).
Nope. Full steam ahead.
What were 2018 XBIZ Awards attendees treated to? Miss drake, under no small amount of stress to be sure, wandering through the event as if she'd taken a couple too many Xanax.
And Helmy's pick also prompted a minor insurrection: a protest by industry members wearing "fuck y'all" t-shirts inspired by the cyberbullying tragedy.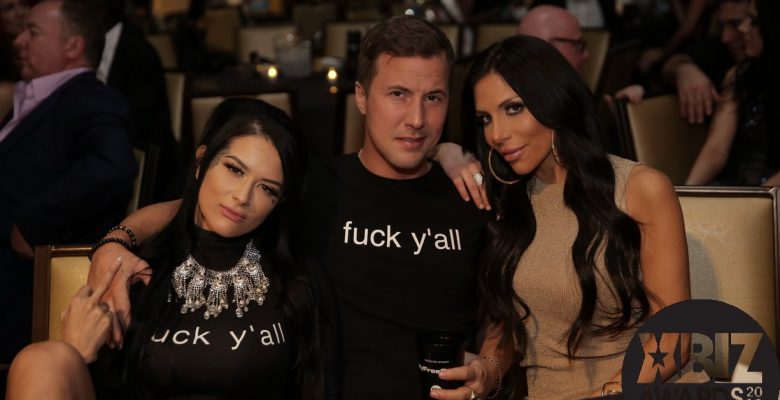 So, for the 2019 awards, Helmy had a chance to show some good taste and good judgement; to hire someone who's both liked and actually cut out for the job of hosting an inherently tedious industry event. You know, someone with style and personality. Someone with a light touch. Someone you wouldn't mind having around for a few hours.
And what he gave us, in his most blatant attention-whoring move to date, is Stormy Daniels.
Miss warmth, she ain't.
Christ, I remember when Fishbein used to host the AVNs himself — in a white tuxedo, no less. The show flowed naturally. The awards actually used to be a good time, because he was (and is) a likable, respected figure with no small amount of charm.
Stormy Daniels, another Wicked Pictures alumnus, commands respect, to be sure (in every sense of the verb), but as to the other two counts. . . not so much.
Congratulations, Alec, you just turned your "crown jewel event" into another step on the Stormy Daniels-Michael Avenatti 'hush agreement' press tour. The awards themselves — the honoring of jobs well done by the hard working members of this business — will be a sideshow.
This won't be "porn's biggest night" — it'll perhaps be one of the top 20 self promotion events of the last year for 'Miss Warmth'.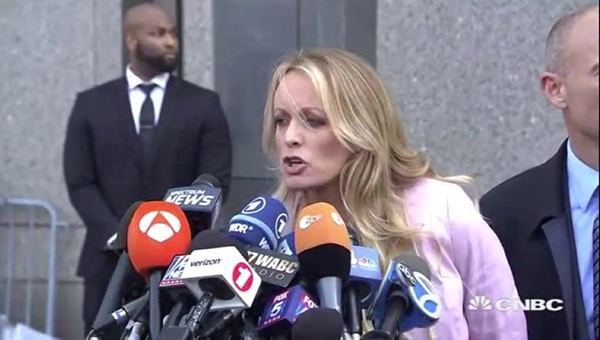 Even more shameful, you announced her hosting gig, Friday, with what is unquestionably the worst, most pretentious press release in porn history.
Just get a load of the first two paragraphs:
Call them mistresses. Call them courtesans. Call them harlots, temptresses or concubines. For thousands of years, they have commanded the attention of society's every echelon, from the backwater bordellos of farmland peasantry to the opulent bedchambers of emperors and the glittering screens of cyberspace travelers.

They are biblical, these demi-goddesses. They are history-makers, these scarlet women. They are, in the eyes of many, the most alluring creatures on the planet, capable of conjuring the greatest ecstasies known to mortal man, wrought from an orgasmic crucible that births life itself.
Jesus Tittyfucking Christ, if the show's stage material is going to be written anything like that, they'll be throwing tomatoes. Talk about reaching too high. It's as if James Joyce tried to write the voiceover for an episode of "Cathouse" after a bottle of absinthe and mild head trauma.
Awards events are meant to shine a spotlight into the crowd, directly onto the hard working men and women who don't get to be on "60 Minutes" because they allegedly fucked and then fucked over a politician. Turning the XBIZ Awards into the latest press event for Stormy Daniels is not only another example of Alec Helmy's knack for self-sabotage, it's a betrayal of every nominee who busted his or her ass to get there.
Two-fisted reporter. That's not my microphone, I'm just happy to see you.