Fan Voting Now Open for 2019 XBIZ Awards
XBIZ announced that fan voting has opened for the adult industry's biggest night, the 2019 XBIZ Awards, presented by MyFreeCams and set for Thursday, Jan. 17 at the towering Westin Bonaventure in downtown Los Angeles.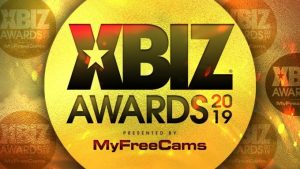 Industry members may cast their votes here, for all 2019 XBIZ Awards categories.
Fans may cast their votes here, for the following categories:
A star-studded affair that attracts the industry elite, the XBIZ Awards show recognizes outstanding achievements across every facet of the multibillion-dollar business, including movie production, pleasure products, technology and retail.
The XBIZ Awards will coincide with XBIZ 2019, the biggest industry-wide trade show of the year, which annually unites over 1,500 players from international markets to promote business opportunities and examine industry trends.
Two-fisted reporter. That's not my microphone, I'm just happy to see you.