Trump Lawyer's Payment to Stormy Daniels Was Flagged as Suspicious and Reported by First Republic Bank
Michael Cohen's bank alerted the Treasury Department about his $130,000 wire transfer to porn star Stormy Daniels.
Further investigation into the transfer may have been prompted by the Special Counsel's Trump-Russia probe.
First Republic, the bank used by Michael Cohen, President Donald Trump's personal lawyer, to wire $130,000 to an attorney for Stormy Daniels, flagged the transaction as suspicious and reported it to the Treasury Department, a knowledgeable source has told The Wall Street Journal.
The money was received on Oct. 27, 2016, 12 days before the presidential election, another individual familiar with the matter said. It isn't clear when First Republic reported it to the government as suspicious.

Mr. Cohen said he missed two deadlines earlier that month to make the $130,000 payment to Daniels because he couldn't reach Mr. Trump in the hectic final days of the presidential campaign, the person said.
The money was due Daniels in return for signing a nondisclosure agreement (NDA) that bars her from discussing an alleged sexual encounter with Mr. Trump in 2006.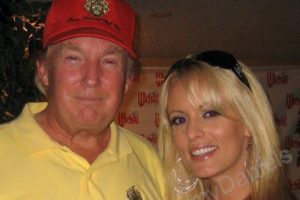 After Mr. Trump's victory, Mr. Cohen complained to friends that he had yet to be reimbursed for the payment to Daniels, sources have now said.
Asked for comment, Mr. Cohen offered a two-word emailed statement: "Fake News."
Mr. Cohen had said last month that he had "facilitated" the payment using his own funds, that the deal was a private transaction and that it didn't violate any laws. He said he wasn't reimbursed by the Trump campaign or the Trump Organization, his former employer, but declined to answer questions about whether he was reimbursed by Mr. Trump or anyone else.
The White House didn't respond to a request for comment.
The reporting of the transaction by First Republic and Mr. Cohen's efforts to reach Mr. Trump haven't previously been reported.

Under federal law, banks are required to flag transactions that have no business or apparent lawful purpose or that deviate inexplicably from a customer's normal bank activity. Suspicious activity reports are filed to the Treasury's Financial Crimes Enforcement Network, where federal investigators can access them.
Mr. Cohen created a company called Essential Consultants LLC as a vehicle for the payment to Daniels, on Oct. 17, 2016. The $130,000 wire transfer to the client-trust account of her lawyer, Mr. Davidson, was received on Oct. 27 at City National Bank in Los Angeles.
Seeking information about the source of funds, City National Bank launched an internal inquiry of its own about the payment approximately one year after Mr. Davidson received the funds in his client-trust account there.
The one-year lag between the payment by Mr. Cohen and the bank inquiry is unusual. It suggests that City National received new information that prompted it to take a fresh look at the transaction, said Charles Intriago, a former federal prosecutor and money-laundering expert.

Special counsel Robert Mueller, who is investigating Russian interference in the 2016 election and whether aides to Mr. Trump assisted in that effort, has sought information about Mr. Cohen's role in a proposal to build a Trump Tower in Moscow in late 2015 and early 2016.

It is unclear whether Mr. Mueller's office triggered the bank inquiry in this case.

A spokesman for Mr. Mueller declined to comment.