A Farewell to Wicked: Stormy Daniels Jumps Ship to Digital Playground
Adult star and reputed Donald Trump lay Stormy Daniels announced today via her Instagram and Twitter accounts that she is bidding farewell to Wicked Pictures, and has signed a new exclusive directorial contract with Digital Playground.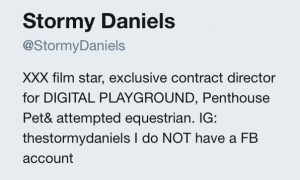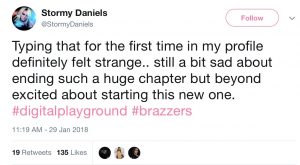 On Instagram Daniels added a little 4-H humor: "I swear the horse on the DP logo didn't influence my decision at all."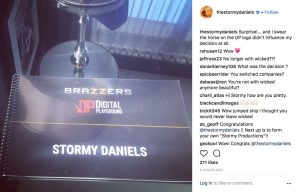 Digital Playground, one of the adult industry's most prominent and successful companies, was acquired by Manwin (now MindGeek) in March 2012.
The prolific Daniels had been signed to Wicked Pictures since 2002 as a contract performer, and since 2004 as a contract director.
Greener pastures
Recent news reports maintain that then-candidate Trump arranged a $130,000 payment to Daniels just prior to the 2016 election in order to deter her from publicly revealing an alleged sexual relationship with him a decade earlier.  Daniels is scheduled to appear on Jimmy Kimmel Live! following Trump's State of the Union address tomorrow night, January 30.
While Stormy's star appears to be rising anew, her farewell to Wicked comes at a time when the studio, and its team, have suffered a series of public relations blows centering on the tragic death of adult star August Ames and its connection to contract performer jessica drake, her husband, contract director Brad Armstrong, and fellow contact director Axel Braun, as well as drake's disputed claims about Donald Trump.