Speaking of Stormy Daniels and Domestic Violence
Earlier this week we reported on Stormy Daniels' appearance at Oxford, where she complained about the negative effects on her career caused by the Trump scandal she started.
On the subject of her creepy attorney Michael Avenatti's arrest for domestic violence in Los Angeles, Daniels commented:
"I will say that right now they are just allegations and I am going to reserve judgment, and I hope that everyone does — trust me, I know what it feels like to be on the other end of that — until all the details are discovered.

But if the allegations turn out to be true then I will definitely be seeking new representation because I cannot condone or support someone who is abusive."
"I know what it feels like to be on the other end of that . . . But . . . I cannot condone or support someone who is abusive."
This got me thinking, and I'll admit that
Daily Beast
 scribe Marlow Stern (in conjunction with that piece of trash
Aurora Snow
) beat me to the punch with a
story
published yesterday.
I think the history here is worth considering.
Here's pertinent part of the Daily Beast piece: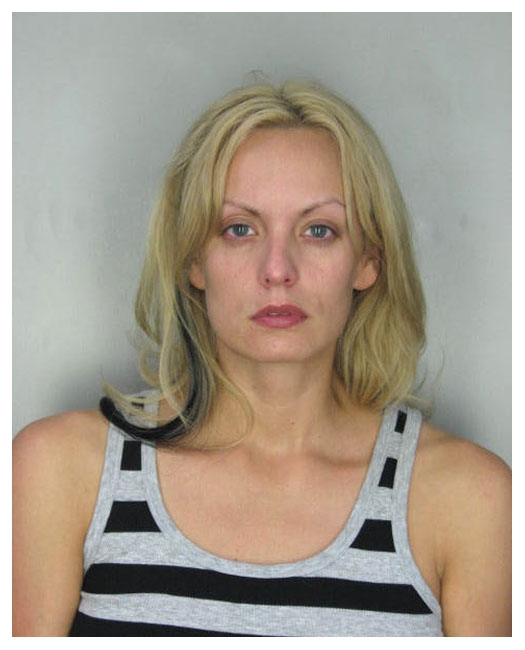 Daniels was arrested on July 25, 2009, after a dispute with her then-husband of two years, Michael "Moz" Mosny, who's worked various odd jobs in the adult industry, at their home in Tampa, Florida.

The arrest report, compiled by Officer Steven A. Smith of the Tampa Police Department, stated that Daniels and Mosny had a "verbal argument" that supposedly became physical, with Daniels "hitting the victim several times in the head with her hand"—although Mosny did not have any visible injuries. Daniels also had no injuries but, unlike the "calm and very friendly" Mosny, appeared "very angry." The officers also observed a house in disarray, with a "broken plate" on the floor, a plant on the window sill "without any flower pot," two candles on the living room floor and "broken shades." Mosny composed a sworn statement at the scene while Daniels refused, telling police, "my lawyer told me never sign any papers."

Mosny's sworn statement taken by police at the scene, and included in the arrest report, claimed that Daniels had become upset over the way his father had done the laundry earlier during a visit to the house, as well as "some bills that had not been paid." He then alleged that Daniels "threw a potted plant at the kitchen sink," then "hit [Mosny] on his head with her hands several times." Mosny said he just "stood there" before walking over to the living room, at which point Daniels entered and "threw their wedding album onto the floor and knocked candles off the coffee table, breaking them."

Daniels, meanwhile, told police officers that she indeed "got upset because the way the laundry had been done" as well as over an unpaid bill. She claimed that she "threw the potted plant at the sink" and may have accidentally "struck" Mosny while trying to reclaim the car keys from him, claiming "he may have been struck by her hand while she was trying to get the keys he was holding over his head." She did cop to subsequently following Mosny into the living room, throwing their wedding album on the floor, and knocking the candles off the coffee table.

The adult actress, who was in the midst of exploring a Senate run against Sen. David Vitter (R-LA) at the time, was booked on a charge of simple battery, a misdemeanor; the Hillsborough County Clerk's Office, however, told The Daily Beast that there was a "notice of termination of prosecution" on Aug. 18, 2009, though the final judgment provided no details as to why the charge was dismissed.
The Daily Beast piece also mentioned Tasha Reign's allegations of on-set improprieties involving Daniels (or at least Daniels' inaction), which we covered back in May, here.