Denials and Nondisclosure Agreements: Was Stormy Daniels Lying About Trump Then or Now?
Are the terms of a mysterious nondisclosure agreement the key to interpreting Stormy Daniels' current denials of an affair with Trump?
A new statement published online, attributed adult performer and director Stormy Daniels concerning her alleged affair with Donald Trump, raises as many questions as it attempts, on its face, to answer.
Here's the latest statement: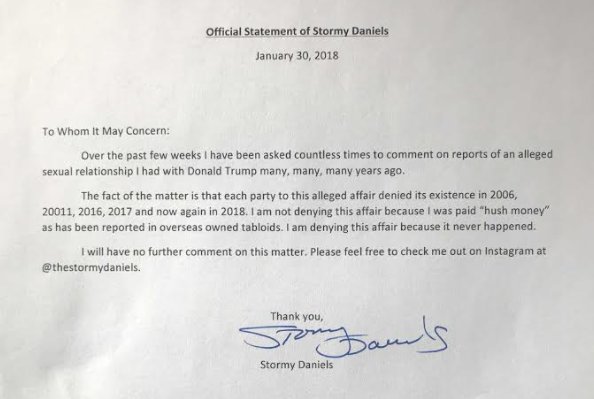 Set aside the reference to "20011" — unless Stormy's mastered time travel, it's a typo.
The problem is, as Washington Post writer Mark Berman notes,
She told journalists in 2011 + 2016 and, per a political adviser when she considered a Senate run in 2009, recounted it to one of them. Her story was consistent to all of them.
Note: the text of the "Official Statement" does not deny that she received the $130,000 that was reported by the Wall Street Journal, it merely states that she isn't now claiming the affair never happened because of hush money.
Another issue is, during her appearance on "Jimmy Kimmel Live", tonight, Stormy hinted that the new statement might not be legit. Asked if she had actually signed the letter herself, Stormy shrugged, saying, "I don't know, did I? That does not look like my signature, does it?"
This prompted her attorney to dash off an email: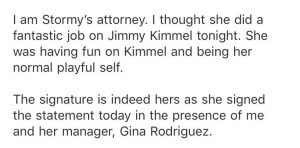 Tangled web
Let's not forget that Stormy spoke to the online magazine Slate multiple times in 2016 before breaking off contact a week before the election, Jacob Weisberg, editor in chief of the Slate Group, wrote at slate.com.  Apparently, she feared Trump would not pay up.
If there had been no affair, what was she talking to Slate about?  A golf cart ride?
In fact, Stormy "was on the radar of a number of mainstream news outlets in the waning days of the presidential campaign," according to the Washington Post. Reporters from Fox News, and the Daily Beast, as well as bookers from ABC's "Good Morning America" were "pursuing the potentially explosive story."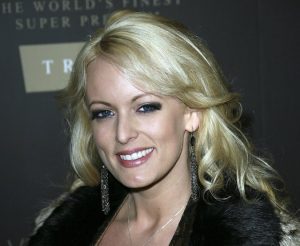 A grave misunderstanding
Weinberg "spoke with Daniels and exchanged text messages with her multiple times starting in the summer of 2016 — all of it on the record." He also spoke to three of her friends, all of whom "confirmed the outlines of her story," according to Weisberg's account, published by Slate.
In addition, Weisberg said he received a two-page document from Daniels that appears to be a nondisclosure agreement that binds her to silence about the terms of a settlement. The document identifies the other party only as "David Dennison a.k.a. [blank]."
Weisberg told the New York Times that Stormy had forwarded him a draft amendment to the original nondisclosure agreement. In it, the performer was reportedly referred to pseudonymously as "Peggy Peterson."
In a text message exchange that Mr. Weisberg provided to the Times, he pressed her on details of the agreement.

"Was the Trump lawyer Michael Cohen?" he asked.

"Yep!"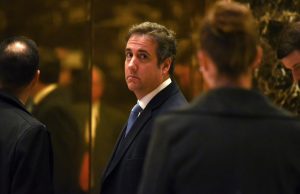 The terms of nondisclosure agreements, or NDAs, can require one party to agree to speak positively of the other should the occasion ever arise.
In 2016, Stormy was ready to confirm the story to the Daily Beast, its editor Noah Shachtman said, but she backed out of an interview on Nov. 3, apparently after signing a nondisclosure agreement.
On Jimmy Kimmel's show tonight, the host tried to ascertain whether a non-disclosure agreement was making Stormy sing a less salacious tune, but she refused to answer that line of questioning as well.
He offered that if she doesn't have an NDA with Trump then she could say she doesn't have an NDA.  Stormy simply replied, "You're so smart, Jimmy."
Interestingly, jessica drake's publicist, Josh Ortiz, told the Daily Beast that drake had signed a nondisclosure agreement "covering any and every mention of Trump". Immediately after the story published, however, Ortiz said that no such agreement existed and that he had "made an incorrect assumption due to a grave misunderstanding."
On the record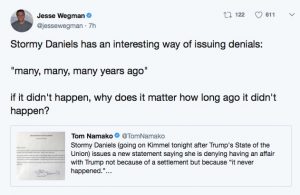 After the story broke, In Touch published a transcript of an interview Daniels gave in 2011.  In the more than-5000 word transcript, Stormy revealed that her relationship with Trump began with a sexual encounter at a golf tournament in Lake Tahoe in 2006 and continued with phone conversations and in-person meetings for approximately one year.
Parts of the transcript reveal a familiar portrait of Trump — watching television intently, bragging about one of his daughters and boasting about being on the cover of a magazine, noted the Washington Post.
The affair between Trump and a sexpot also seems in character for the current commender-in-chief.  In 2016, former Playboy model Karen McDougal sold the exclusive rights to her story about an affair she claimed to have had with Trump to American Media Inc., the company that owns The National Enquirer, The Journal reported shortly before the election.
American Media, whose chief executive, David J. Pecker, is close with Mr. Trump, decided to bury the story.
McDougal was represented by the same man who represented Stormy Daniels: attorney Keith Davidson, who has represented a number of models and adult film performers over the years.
And last but perhaps least, given her famously tenuous relationship with veracity, Alana Evans has confirmed parts of the Stormy-Trump story.
We may never know the full truth about what really happened between Donald Trump and Stormy Daniels. . . and if a nondisclosure agreement is indeed in place, that's just the way the president wants it.
I never felt more satisfied or optimistic than when I rode the river in my youth.