Classy: Stormy Daniels Booked on Jimmy Kimmel Live! Following Trump State of the Union
One of the most unshakeable of masculine fears is that of the insatiably opportunistic woman who, after taking all she's been given, just won't go away. Has this trait ever been so singularly personified as it has in porn star Stormy Daniels?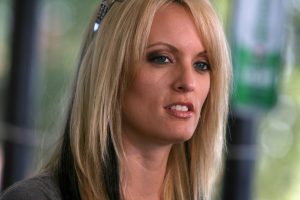 More than a decade ago, she happily bathed in the glow of Donald Trump's wealth and access; bragged of their first meeting in a 2011 AVN interview ("That was actually my first time on a golf course, and when you're riding around with Donald Trump in an Escalade golf cart during your first time out on a course, I'd say I was doing all right"); accepted (and likely demanded) $130,000 in hush money during the 2016 presidential campaign; and has now returned to the spigot: granting interviews detailing their consensual intimacies and embarking on a feature dance tour.
On Twitter, yesterday, not-all-that-funny comic and left wing ideologue Jimmy Kimmel announced that his television show, Jimmy Kimmel Live!, had booked Stormy to appear following Trump's State of the Union speech on Tuesday, January 30.
Daily Variety writes:
A spokeswoman for the program confirmed the show's booking.

Viewers will likely tune in for the spectacle of the visit as well as to see if the actress will say anything about the situation in which she has found herself.
Found herself? LOL Daniels engineered this situation!
What an embarrassment. And, just as jessica drake did by making accusations about Trump the day her online web store launched, Stormy's selfish action reflects of adult stars and the business as a whole — and risks bringing the wrath of the most powerful man on the planet upon them.
All for a buck.
I never felt more satisfied or optimistic than when I rode the river in my youth.