The Tweet of the Day goes to Aaliyah Hadid @AaliyahHadidxo
There is a lot of people out there who like to get on their high horse and somehow act if they are above others. Aaliyah Hadid wants to set the record straight on how she thinks about that.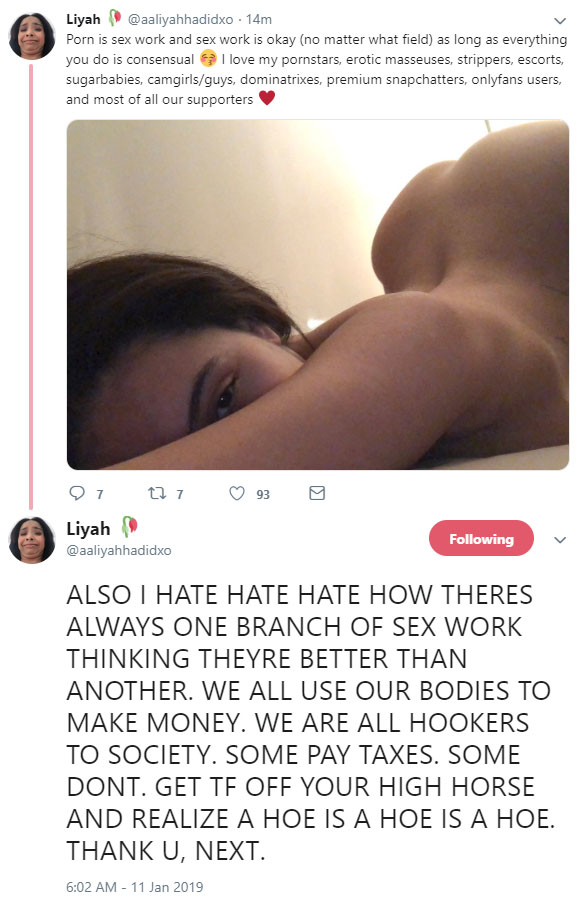 Porn is sex work and sex work is okay (no matter what field) as long as everything you do is consensual I love my pornstars, erotic masseuses, strippers, escorts, sugarbabies, camgirls/guys, dominatrixes, premium snapchatters, onlyfans users, and most of all our supporters
ALSO I HATE HATE HATE HOW THERES ALWAYS ONE BRANCH OF SEX WORK THINKING THEYRE BETTER THAN ANOTHER. WE ALL USE OUR BODIES TO MAKE MONEY. WE ARE ALL HOOKERS TO SOCIETY. SOME PAY TAXES. SOME DONT. GET TF OFF YOUR HIGH HORSE AND REALIZE A HOE IS A HOE IS A HOE. THANK U, NEXT.

Hello, my name is Kelli Roberts. I am a published author, AVN nominated producer, and webmaster who has worked in the adult industry since August of 1996.