NFL Network exec shamed in media for Tweeting with escorts and porn stars
More mainstream media sex shaming: this time of an NFL Network exec.  These anti-sex people are just too much.
David Eaton, NFL Media V.P. and executive editor, reportedly spent Wednesday scrubbing his Twitter clean of interactions with numerous escorts and porn stars, according to Deadspin.
The NFL.com exec then erased his Twitter account completely.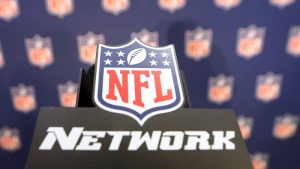 However, the internet is forever, and Deadspin obtained screenshots of the now-deleted conversations.
Here Eaton tweeted to @GotHookerProbs in 2015 in reply to their tweet about a client having "7 piercings in his cock."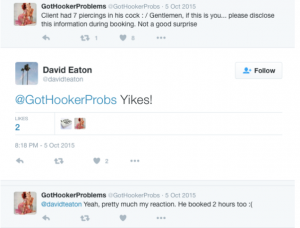 What about this is shameful, exactly? Treating a sex worker like a relatable human being?
It was also revealed that in June 2013, Eaton tweeted with porn star Zoey Holloway multiple times .
"Love getting on Twitter to see a tweet that I am over the hill…" Holloway wrote, to which Eaton quipped, "Always better to be 'over' than 'under' when it comes to hills.'"
How awful of him! The cad!
A week later, he complimented Holloway, commenting "lucky desk!" on a picture she posted while sitting at a table in what Hoffman described as a "booby cuddling" dress.'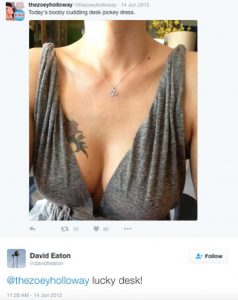 Holloway registered zero discomfort with his tweets.
"On at least one occasion," as the Daily News puts it, "he tried to discuss literature with this account featuring a topless woman avatar:"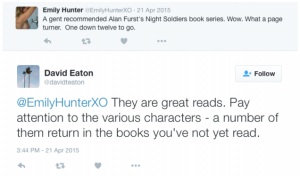 Heavens, no! He treated an attractive, apparently sexually open woman as an equal, and as an intelligent human being. For shame! Doesn't he know that such women are all stupid dirty whores?!?
Eaton's Twitter cleansing came 24 hours after NFL Network suspended Ike Taylor, Marshall Faulk and Heath Evans.
All three have been named in a sexual harassment lawsuit by former NFL Network wardrobe stylist Jami Cantor.
According to a published report, Eaton's "public Twitter chats" with accounts like these were talked about frequently among NFL Network employees.
So fucking what?  Now mentioning that "David tweeted a porn star" equals sexual harassment over at NFL Network?
I never felt more satisfied or optimistic than when I rode the river in my youth.