Is The Orgasm Inducing Mushroom of Hawaii Real?
When I read an article about special orgasmic mushrooms, I was sure it was #FakeNews. Especially when the source was an article from the international journal of medicinal mushrooms. There was no way that was a real thing. Turns out I was wrong.
Turns out, at least according to Wikipedia, there really is an international journal of medicinal mushrooms and it's been in print since 1999. Who knew? Apparently, it comes out once a year.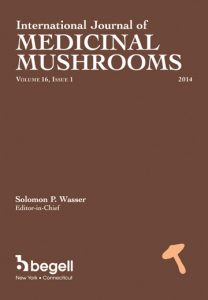 In the article written by John C. Holliday and Noah Soule, of Next Laboratories from Kula, Hawaii and  Aloha Medicinals, from Puunene, Hawaii, women who smell this newly found species of mushroom have spontaneous orgasms.

On the island of Hawaii in the Central Pa­cific, there has long been the rumor of a bright orange colored mushroom with peculiar proper­ties.

Found growing only on recent lava flows approximately 600-I0,000 years old, this variety of mushroom has the reputation of being a potent female aphrodisiac when smelled.

In this study the morphology and chemistry of this unnamed Dictyophora species is described, along with the result of a smell test conducted on volunteer participants, showing that there arc significant sexual arousal characteristics present in the fetid odor of this unique mushroom.

Indeed, nearly half of the female test subjects experienced spontaneous orgasms while smelling this mushroom.

These re­sults suggest that the hormone-like compounds present in the volatile portion of the spore mass may have some similarity to human neu­rotransmitters released during sexual encounters.
Sounds good so far, right?
Well, it turns out I wasn't the only skeptic. A reporter from Discover magazine had the same reservations that I did. They hunted down this John Holliday from the article who apparently still had some connection to the Aloha Medicians company.
"Immediately, Holliday clamped up. "Unfortunately, I was employed by a major pharmaceutical company when we did this work, and they are still pursuing the active compounds as a drug. I am under a pretty strict NDA [non-disclosure agreement], so, unfortunately, I am unable to answer your questions regarding this line of inquiry," he wrote back."
It turns out there may be something to the story but not as easy to find as one might think. What we learned is the mushroom was a fungus that smelled like semen. The researchers did their best to find it but int he end all they found was the story was probably 100% bogus. There is no mushroom in Hawaii that gives women orgasms just by smelling it.
The Mushroom Journal later proved that the whole thing was a fake in their own article and with their own research.
In 2001, while employed by Next Labs in Hawaii, a "wholly owned subsidiary of a pharmaceutical giant," John Holliday and Noah Soule published a rather sketchy study in an obscure journal — the Journal of International Medicinal Mushrooms (Holliday, 2015). Holliday is a former editor of that journal.
So there you have it. There is no orgasm mushroom.
Just goes to show how easy it is to spread #FakeNews. Hundreds of thousands of people have now read the story and to this day are still spreading it as if it were real. It's not.
Hello, my name is Kelli Roberts. I am a published author, AVN nominated producer, and webmaster who has worked in the adult industry since August of 1996.